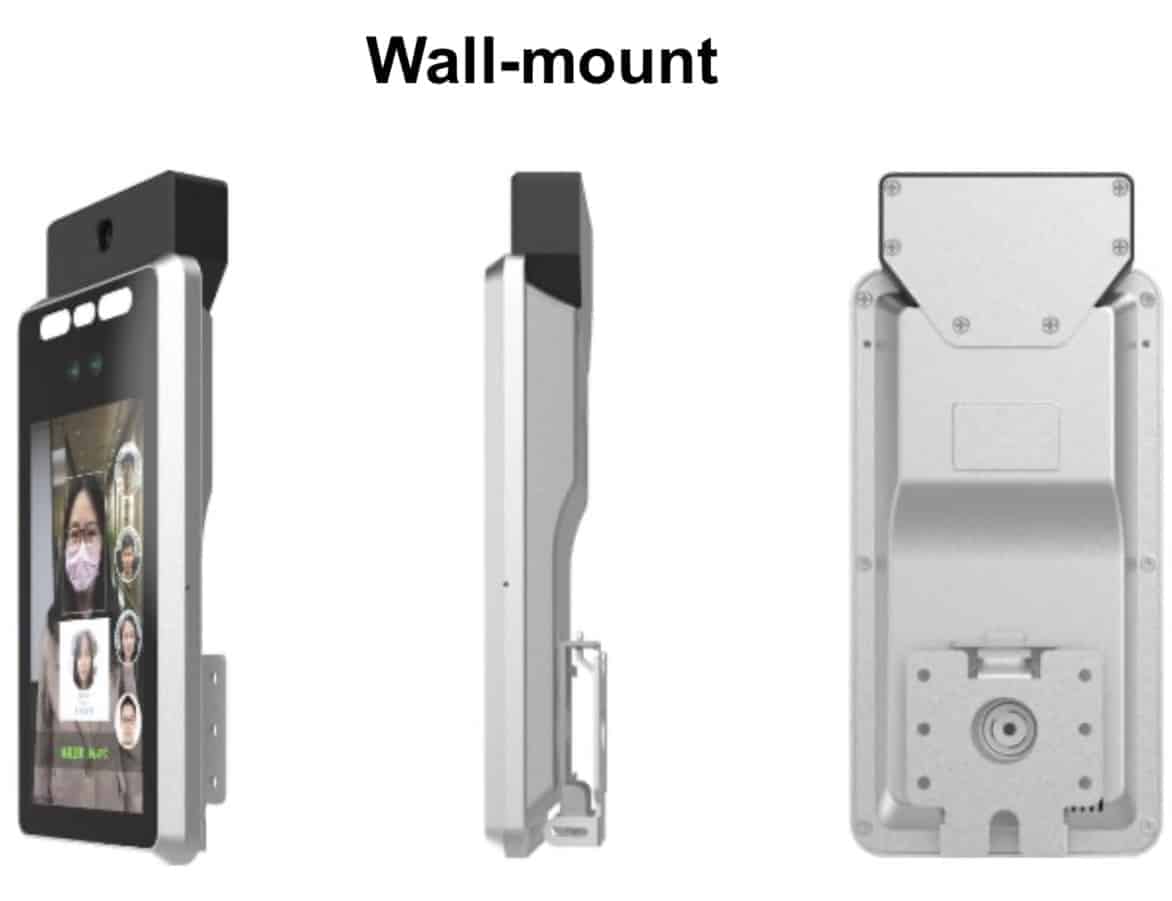 For preventing the spread of COVID-19 (Coronavirus),
Thermal Detector with Time attendance system that adopts the new AI chipset, large thermal sensor array, and the latest algorithm, providing the cutting-edge face recognition and body temperature detection, with the ability to detect if employees are wearing a mask.
High Accuracy
± 0.2 ° C forehead temperature detection
99.9%
Face recognition
the best solution for access control and time attendance system Fast Detection 50ms temperature + 200ms face recognition measurement
Long detection range
0.3 m ~ 1.2 m forehead body temperature detection
Wear mask recognition
Support face recognition with face mask, recognition rate> 95% Detection range: up to 2 meters
Supports 1: 1 or 1: N face comparison
Attribute Recognition
It can be set up to recognize if employees are wearing hard hates etc.
Variety of door access control Support
Face recognition for door access control, is compatible with many brands.
multi-language support
English, Spanish, French, Italian, Russian, Japanese, Korean UI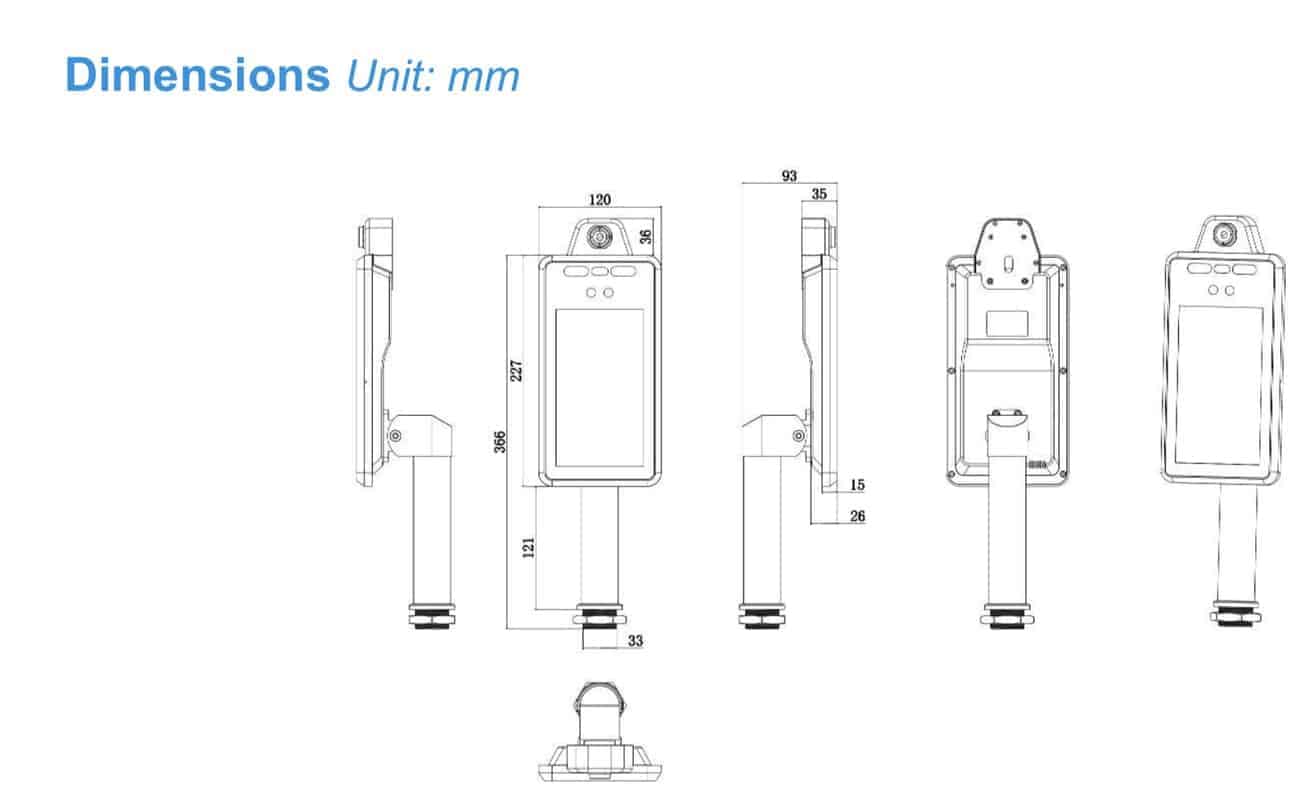 Hardware Specifications Model

 

Hero-TD01-G

 

Item

 

Specification

 

Sensor Type

 

Uncooled infrared focal plane array

 

Infrared Thermography camera

 

120*90

 

Thermal measurement range

 

0.3m-1.2m

 

Thermal measurement accuracy

 

±0.2℃

 

Hardware

 

Processer

 

AI chipset ARM Cortex-A7 quad-core, 4 x high performance CEVA DSP

 

OS

 

Linux

 

Storage

 

8GB EMMC+1GB DDR4

 

LCD

 

7 inch, 1024*600 resolution

 

Camera

 

Sensor

 

Dual 2Mp, low lux sensor

 

WDR

 

≥120dB

 

FoV (Diagonal/horizontal/ vertical)

 

73degree /65 degree /40 degree

 

Iris

 

F2.0

 

Focus length

 

4.3mm

 

Performance

 

Biopsy

 

Anti-electronic screen, video, mask hacker attack

 

Recognize height

 

1.2~2.2 meter, angel adjustable

 

Detection range

 

0.5m~2m, lens adjustable

 

Face library

 

30,000 (default)

 

Attendance Record

 

30,000

 

Face angle

 

horizontal 30 degree, vertical 30 degree

 

Interface

 

Alarm input

 

2 pcs

 

Alarm output

 

1 pcs

 

Access control

 

Push out

 

Power supply

 

DC12V , 2A ( 9 -16V DC)

 

Power consumption

 

Less than 24W

 

Ethernet

 

1 pcs RJ45 10M / 100M Ethernet

 

Wifi

 

2.4G Wi-Fi (Optional)

 

USB

 

1 pcs USB 2.0

 

General

 

Working Temperature

 

-40 ℃~ + 60 ℃.
Dimensions

 

120mm*226.5mm*33.5mm

 
Algorithm Parameters Application

 

Items

 

Description

 

Face recognition

 

Face recognition

 

Local recognition: 30,000 (default )

 

Algorithm accuracy

 

99.9%@0.01% (The accuracy rate is 99% under the 10,000th false alarm rate)

 

Angle requirements

 

Yaw ±30°,roll ±30°,pitch ±15°

 

Face minimum pixels

 

Face size above 80 * 80 pixels

 

Face biopsy detection

 

Angle requirements

 

Yaw ±30°,roll ±30°,pitch ±15°

 

Face pixel requirements

 

Interpapillary distance 50 pixels and above

 

Algorithm accuracy

 

98%@0.01% (Real pass rate@Dummy pass rate)

 

Non-biopsy category

 

Pictures, videos, coated paper, fake face models, etc.

 

Face detection and tracking

 

Number of people captured

 

More than 30 people/frame

 

Snap frame rate

 

25fps

 

Minimum face size

 

30*30

 

Adaptation angle

 

Yaw ±45°,roll ±45°,pitch ±30°

 

Face attribute

 

Item

 

Gender, age, glasses, facial expression (angry, calm, happy, sad, surprised), mask, ethnicity, beard, ethnicity, hat detection, helmet detection

 

Algorithm accuracy

 

Age accuracy (± five years old): more than 85%;

 

Gender accuracy: more than 96%; Skin colour accuracy: more than 97%; Beard accuracy: more than 97%; Glasses accuracy: more than 98%; Mask accuracy: more than 98%; Has accuracy: more than 97%; Expression accuracy: more than 88%