FOR BIG, BOLD & BETTER PROJECTS
The 4K Tessera SX40 LED processor combines our industry-leading feature set and easy-to-use software interface with our highest-ever capacity processor. Tessera SX40 offers support for full 4K screens at 60Hz with 12 bits per colour output. It supports a zero-latency up/down scaler that matches the source to the screen as well as all of Tessera's industry-leading processing features. These include 
HDR
and 
Dynamic
Calibration
 as well as Extended Bit Depth, 
HFR+ (High Frame Rate

),
Frame Remapping,
and more. Additionally, Stacking can be used to control multiple SX40 processors as one. It is compatible with all existing Tessera fixture inventory. Used in combination with the Tessera XD Distribution unit, the SX40 provides a cost-effective and powerful system for supporting the biggest and boldest LED projects.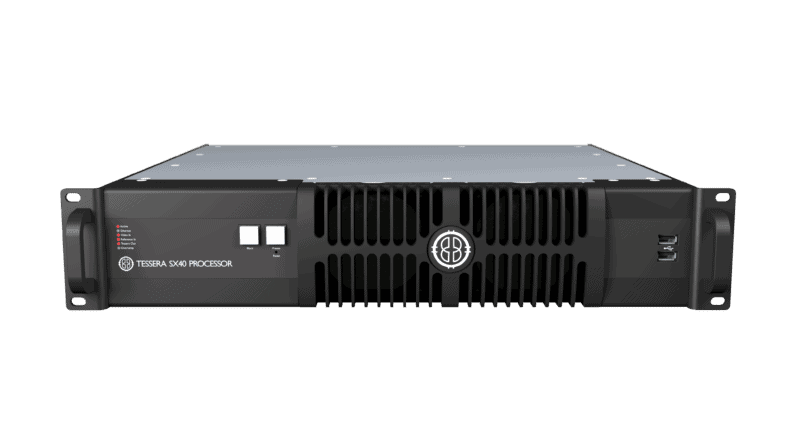 POWERFUL TESSERA FEATURE SET
The Tessera system is genlocked from the video input all the way down to the LED refresh cycle, giving perfectly smooth video with no dropped or doubled frames.
GENLOCK
Delivers ultimate peace of mind for users by introducing an auto-failover mechanism that allows a back-up processor to take over in just a few seconds.
REDUNDANCY
Tessera Management Software gives you full control over your Tessera System, with an array of powerful, easy-to-use features for an impeccable show every time.
TESSERA SOFTWARE
Improves the appearance of panels operating at less than their maximum brightness by reducing banding and increasing the detail in dark areas.
DARK MAGIC
Offers powerful and intuitive colour correction with two operating modes – 14 Way Colour Corrector and Colour Replace. Easily and independently adjust primary, secondary and tertiary colours.
CHROMATUNE
High Dynamic Range offers greater brightness and colour ranges with a higher bit depth, appearing perceptibly sharper and more detailed for vivid, lifelike images.
HDR
Provides real-time compensation for thermal artefacts such as pink/cyan pin-cushioning, and gradients due to swapped modules.
THERMACAL
Limitations in the driver chips, LEDs and panel electrical design can be overcome to ensure neutral colour balance across the entire greyscale.
PURETONE
Ultra Low Latency reduces the end-to-end latency to just 1 frame, providing a solution for broadcast television and film industries.
ULTRA LOW LATENCY
HFR+ offers the power to play video content on an LED screen at up to 250 fps (frames per second).
HFR+ (HIGH FRAME RATE)
Import a 3D LUT directly into your Tessera software project file, for advanced colour management capabilities.
3D LUT
Frame Remapping makes it possible for multiple cameras to each see different content when viewing the same LED screen at the same time.
FRAME REMAPPING
ShutterSync tunes the LED screen to the camera, not the other way around, giving back creative flexibility for camera configuration.
SHUTTERSYNC
Changing between Operating Modes is quick and easy, and it puts the final decision on which aspect of visual performance is most important back in the hands of the user.
OPERATING MODES
Our Tracking Markers feature is compatible with the Mo-Sys StarTracker system and overlays configurable tracking markers onto your displayed video content.
TRACKING MARKERS
With Stacking, multiple processors can be controlled as one. Setups can be as large and versatile as you need them to be – with quicker, greatly simplified control.
STACKING
New levels of dynamic range are a free update away! Unlock up to 3.3 additional bits of precision and reap the rewards of superb image quality and maximised HDR content.
EXTENDED BIT DEPTH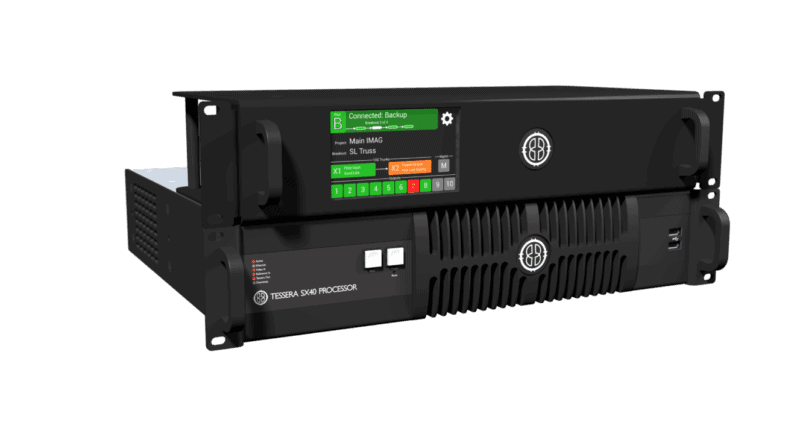 TESSERA XD DISTRIBUTION UNIT
The Tessera XD 10G data distribution unit works seamlessly with the Tessera SX40 LED processor to deliver a flexible, sophisticated single box solution designed specifically to easily and cost-effectively support the biggest LED projects.
The Tessera SX40 processor and Tessera XD data distribution unit support both copper and single mode optical fibre trunk connections, and the Tessera XD can be used to convert between the two media.
Trunk connections between a Tessera SX40 and Tessera XD, or between Tessera XD units, use a 10G Ethernet-based backbone to reduce the number of home-run connections required.
Unusual shows have unusual content. With the Tessera SX40 you can build a screen of almost any size and dimension and be sure that your content plays beautifully on it.
For complete flexibility and creative control, the Tessera SX40 processor accepts custom input resolutions.
Redundancy delivers ultimate peace of mind for users by introducing an auto-failover mechanism that allows a back-up processor to take over in just a few seconds.
Tessera LED processors can be fed from the same or independent video sources, with different formats, resolutions, and/or frame rates.
There's no requirement for any aspect of the sources to match – redundancy will ensure a near-seamless show even in the event of a power or cable failure.
R2 RECEIVER CARD
The R2 Receiver Card is the most powerful Tessera receiver card ever, supporting a 262k pixel capacity, making it perfect for all types of LED panels.
COMPARISON CHART
See and compare the capacities and features of all Tessera LED Processors.
SX40 DATA SHEET
Download the Tessera SX40 processor datasheet .pdf with full product technical specifications.
SX40 DATA SHEET
Download the Tessera SX40 processor datasheet .pdf with full product technical specifications.
A mid-range processor perfect for high-profile projects that don't require large output capacity but want the full suite of Tessera processing features.
Tessera S8
A straightforward powerhouse processor built for large, high resolution LED screens, offering fewer creative features for competitive value.
Tessera S4
Designed for creativity, an ideal choice for smaller creative shows and displays that don't need to output a huge amount of pixels.
Tessera T1
Brompton's first 4K processor and the best LED processor currently available on the market. Used with the XD Data Distribution Unit to provide a comprehensive solution for 4K screens.
Tessera SX40

PHYSICAL (WxHxL)
Unboxed
482.6mm (19") x 88.9mm (3.5") x 406.4mm (16")
Rear width: 431.8mm (17")
Boxed
550mm (21.65") x 220mm (8.66") x 520mm (20.5")

WEIGHT
Switched autoranging power supply
100 – 240V AC
50Hz – 60Hz
1.2 – 0.6A
HDMI 2.0 INPUT & RE-CLOCKED THRU PORT
One HDMI 2.0 input
Full 18Gbps HDMI 2.0 bandwidth, maximum 600MHz pixel clock
Up to 4096 x 2160 resolution (progressive only)
23.98Hz to 250Hz framerate
8,10 and 12 bits per channel colour depths
RGB and YCbCr 4:4:4, 4:2:2 and 4:2:0
Compatible with DVI-D and DisplayPort sources via adapters

SDI INPUT & RE-CLOCKED THRU PORT
One 12G SDI input that supports the following:

HD-SDI – ST-292
3G-SDI – ST-424, Level A and Level B-DL
6G-SDI – ST-2081
12G-SDI – ST-2082, 2SI format

Up to 4096 x 2160 resolution (progressive only)
23.98Hz to 60Hz framerate
10 bits per channel colour depth
YCbCr 4:2:2

OUTPUTS
Four 10GBASE-T copper output ports
Supports nominally 9 million pixels at 36 bits per pixel @ 60Hz
Supports Neutrik etherCON Cat 6A / etherCON (CAT5e) connectors
Compatible with standard Cat6A / Cat5e RJ45 connectors
Requires Cat6A cable (up to 60m) or Cat5e cable (upto 30m)
Four 10GBASE-LR Tessera XD fibre output ports
Supports Neutrik opticalCON DUO / DUO ARMORED / DUO X-TREME / DUO LITE connectors
Compatible with standard LC-Duplex connectors
Requires 1310nm, 9/125um single-mode fibre (up to 2KM) with PC or UPC connectors
Each 10G output independently auto-switches between fibre and copper
Closed loop redundancy support
Processor redundancy support

GENLOCK
Bi-level and Tri-level sync
Sync to source
Processors genlock from source right through to panel refresh
Frame rates from 23.98 to 60Hz

LATENCY
2 frames end-to-end system latency (all features)

TESSERA MANAGEMENT SOFTWARE
Local management using monitor, keyboard and mouse connected directly to processor
Up to 3840×2160 local monitor resolution supported, minimum 1920×1080 recommended

TESSERA REMOTE
Available free for Windows PC and Mac OS
Remote management using Windows PC or Mac connected to processor via Ethernet network
Two Gigabit Ethernet management network ports

REMOTE CONTROL
Support for eDMX protocols:
DMX-512A on 5-pin XLR in and thru
Tessera Control application for multi-processor control via management network ports
IP Control

I/O
Two USB 2.0 ports on front
Two USB 3.0 ports on rear
One DisplayPort (DP++) monitor output supporting HDMI, DVI and VGA with adapter

FRONT PANEL
Six status LEDs
Power LED
Freeze button
Blackout button
"The Brompton SX40 processor is by far the most advanced and user-friendly LED control hardware & software on the market – it's an LED tech's dream to operate. The auto detection of panel quantity and type per string is very helpful, while the fantastic XDs really aid with cable management and cabling options…
Alex Strachan – iMAG Displays
… The engineers and designers have really thought of everything you would want in a 2U bit of kit. We often use it in high pressure, tight timescale environments, and the SX40 is a pleasure to work with, never letting us down."
Alex Strachan – iMAG Displays