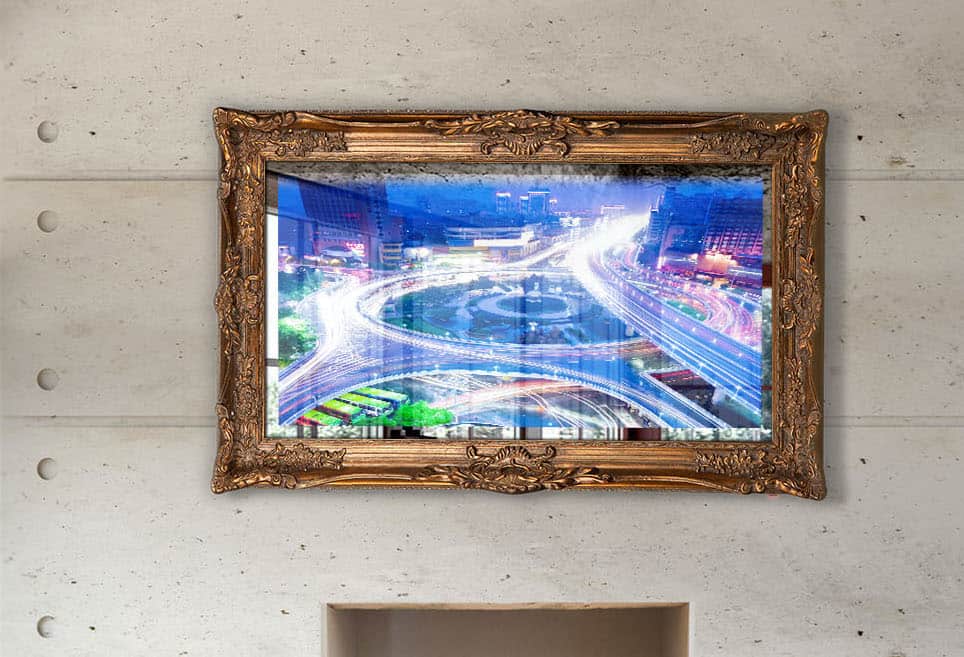 Reflect Upon The Latest Advancement In Technology
The world has truly come a long way. When it comes to selecting a television, there are more options than you could imagine. One highly popular, sleek, very modern, and sophisticated solution are mirror TVs. Give yourself a taste of the future by stepping into a world unknown to many. Let's explore.
It's A Combination Of Style & Entertainment
A finely crafted Mirror TV will add tremendous value to any room of your home. Whether it's the bathroom or the living room, you'll want a mirror tv that brings out the magic of your home. Most of our customers are looking to craft the perfect smart house with the latest and greatest technological advancements. If your home doesn't have a mirror TV, you are definitely missing out.
Mirror TVs With and Without Frames
It doesn't matter if your home has an ancient, traditional feel or a modern smart home look. There are mirror TVs designed for everyone. A classic wooden frame will help fit your specific architecture while a frameless mirror TV will bring on a contemporary, modern look fit for any home.
Sleek. Modern. Traditional
Let's talk about style for a second. Many people have a very specific interior decoration they are striving for. The difference between a sleek modern home and a traditional Victorian home can be night and day. Let's talk about it. Tell us what style you're going for and our support specialists will lead you to 100% satisfaction.
Why Not A Mirror TV?
Ask yourself one question, why not? You already have smart home gadgets, 4k HDTV in the living room, and a loyal golden retriever. All you need now is a stylish mirror TV to elevate any room to the next level. 10 years ago, Mirror TVs were something out of science fiction. Today, they are here for you to enjoy. If you would like to know more why not Contact Us?
TV Mirror Technology Has Arrived
What used to be seen in movies and written about in books is now available for purchase. The world has come a long way and you're just in time to take advantage of it. The right questions you should be asking yourself is why not enjoy a mirror tv? The answers are endless.
It's The Best Of Both Worlds
Imagine getting ready in the morning with a crystal clear mirror and coming back home to a hi-tech HDTV to enjoy in the evening. It doesn't get better than multipurpose technology. Combining the utility of a mirror and the pleasurable enjoyment of a TV will elevate your life more than you can imagine.
Easy Installation
With a quick and easy installation, you won't have to worry about expensive handyman bills. Also, ask about our packaged options to uncover an all-in-one package that gives you everything you need to get up and go. We want you to start enjoying your mirror TV on day one.
Enhance Any Space
Whether you are looking to decorate your commercial lobby or family living room, we'll have options for you. Enhancing your space is about finding that perfect balance between minimalism and utility. Our mirror TVs will give you just that.
How It Works
You may be thinking to yourself, this can't be as simple as order, ship, receive, install. Well, that's not correct, it is that easy. We've designed a process that serves to give you everything you need in one location.
Tell Us What You Want
Lets first discuss what you are looking for. How can we best suit your needs? Is it a framed option, non framed option, a bathroom model, living room model, or something else? Let's talk about it.
Customized Options
We'll help put together a customized option designed just for you. Whether you already have the TV or need the TV and wall mount, let us know. The modern power of convenience is transformative. Don't get left behind.
Packaged Options
When we say package, we mean including both the frame, mirror, tv, and wall bracket. That's everything you need to start enjoying your mirror TV. If you can do the installation work, then that's even better.
Luxury Styling Solutions
Some of our clients prefer a more personalized, hands-on approach that helps match their luxury home to a luxury mirror tv option. If this sounds like you, give us a call and one of our support specialists will get right on it.
Expert Support Specialists At Your Fingertips
Looking for more information? That's normal. Everyone needs help when it comes to such an advanced solution. Leave it up to the pros to help find exactly what you need.
Mirror TV FAQ
Gain some peace of mind from a few frequently asked questions we get all the time.
How clear is the picture quality?
Modern Mirror TVs have a crystal clear HD 1080p picture quality, just like any other TV. If you have a 4K TV, then the picture quality will be 4K. The attached mirror has no impact on picture quality at all.
Where will my cables sit?
It looks better if you have your cables mounted in the wall behind your TV. However, we recognize that not everyone will have that option. Therefore, we recommend cable tubes to place cables in a convenient, yet hidden and stylish location.
Are your mirror TVs easy to clean
As the mirrors are standard glass, they are extremely easy to clean. Use normal paper towels to clean them. For best results, purchase a quality glass cleaner to efficiently remove marks and clean smudges.
How to mount the Mirror TV
For heating purposes, it is best to mount your mirror tv slightly away from the wall. It is possible to mount your mirror tv flush in the wall. However, you must be sure that heating can become an issue with mirror TVs mounted in the wall. Remember to allow ample space when mounting in the wall to allow for proper heat dissipation.