P1.2mm 4K LED Display Installed at Brevan Howard Asset Management, Baker Street, London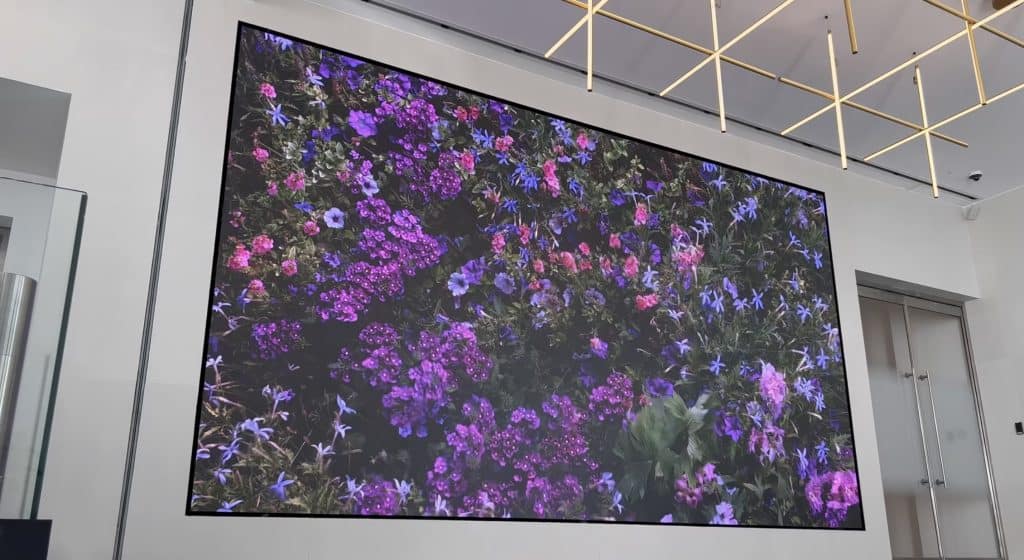 Are you looking to add some impactful visual art to your business? Look no further than Brevan Howard Asset Management in London, where Dynamo LED Displays recently installed a stunning 4K P1.2mm LED Screen at the entrance of the building. This impressive display showcases Davide's Jardins d'Été, an homage to French Impressionism that captures both energy and beauty with its bright colors and vivid imagery. While this stunning technology could serve as a sobering reminder of how important investment decisions are for businesses, it also serves as an invitation to admirers of abstract art from all around the world. If you find yourself in London anytime soon be sure to make a stop by this beautiful piece of artwork on display at Brevan Howard Asset Management!
Overview of Brevan Howard Asset Management's new 4K LED display and its features
Are you ready to experience the next level of visual display technology? Alan Howard Investments has launched their latest innovation – the 4K LED display with a 1.2mm pixel pitch and COB technology coated with resin. With its massive size of 4.8m by 2.7m, it is perfect for showcasing high definition content. This cutting-edge display is designed to provide crystal-clear images with vibrant colours, ensuring an immersive visual experience that will leave you in awe. It's a perfect fit for a wide range of applications, from indoor events and concerts to large scale public installations. Get ready to be amazed by the sheer quality and clarity of the 4K LED display.
Benefits provided by the LED display to clients and visitors
The LED display has become a staple in many businesses, and for good reason. Not only does it provide an opportunity to showcase important information to clients and visitors, but it also creates a warm and welcoming ambience. There's something about the bright, vibrant colours of an LED display that draws people in and makes them feel at ease. It's a subtle yet effective way to elevate the overall atmosphere of a space and make it feel more inviting. Whether it's displaying the latest promotions or simply adding a touch of personality to a lobby, the benefits of an LED display are clear. So if you're looking for a way to impress your clients and make your visitors feel right at home, consider investing in this powerful lighting technology today.
Jardins d'Été by Davide Quayola featured on the 4k LED display
Jardins d'Été by Davide Quayola is a true masterpiece that pays homage to French Impressionism, in particular the late works of the greatest Claude Monet. The display is a digital interpretation of the famous paintings of flower gardens in Giverny and boasts a superbly vibrant and colourful collection of flowers. The use of technology brings the paintings to life in a way that Monet could only have ever imagined. The experience is truly spiritual and soothing, leaving viewers mesmerised and in awe at the beauty of nature. A visit to this display is a must for any art aficionado or admirer of Monet's works.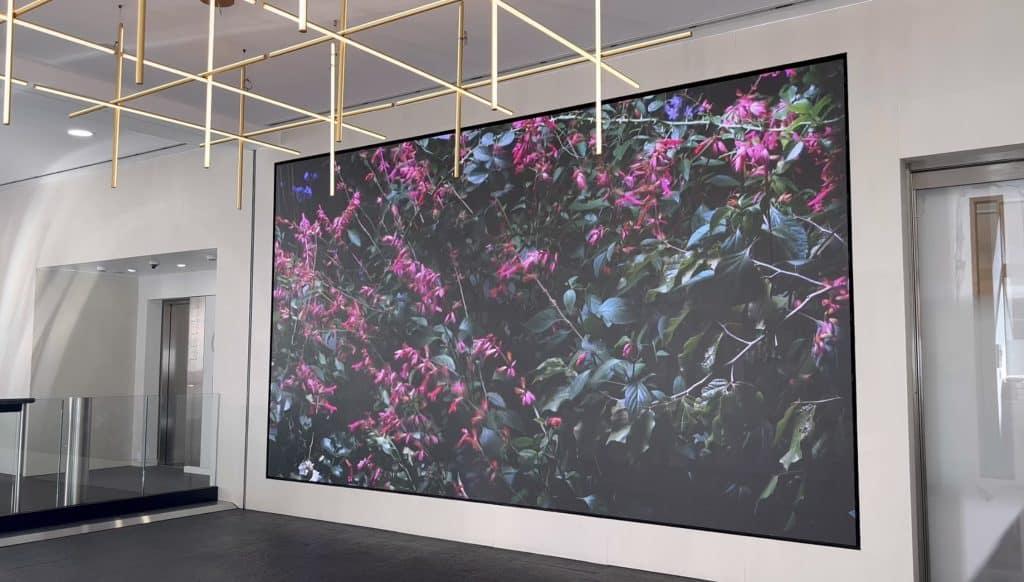 Installation process of the LED display from start to finish
The installation process of an LED display is a complex and intricate task that requires expertise and precision. From start to finish, every step must be carried out with utmost care to ensure that the end-product meets all the desired specifications. The first step involves fixing the LED display directly to the wall, ensuring that it is secured and stable. Before this, the power and data must be installed prior to mounting to ensure that the display functions properly. Once the display is securely fixed, the LED modules are attached. This final stage requires patience and attention to detail to ensure that the LED modules are correctly aligned and function as intended. Overall, the installation process of an LED display is a challenging yet rewarding task that can transform any space, adding a vibrant and dynamic touch to any area.
The technology behind the P1.2mm LED display
The 4K P1.2mm LED display has quickly become a popular choice for those who demand the highest level of visual clarity and detail. But what is the technology behind this impressive display? Well, the playback file used for the 4K P1.2mm LED display was a pro res file, which is a high-quality codec that preserves the maximum amount of detail possible. Additionally, the display is powered by the Black Magic HyperDeck 4K, which ensures smooth and flawless playback of the visual content. With this impressive combination of technology, the 4K P1.2mm LED display is sure to impress even the most discerning of viewers.
How Brevan Howard Asset Management is using the LED display to promote their brand image
Alan Howard's Brevan Howard Asset Management has recently taken a bold step towards promoting their brand image by incorporating LED displays into their UK headquarters. The use of visually stimulating displays creates a lasting impression on individuals who visit the site and reinforces the company's commitment to innovation. LED displays have proven to be a powerful marketing tool in today's fast-paced digital world, which hinges on creating a memorable first impression. The investment fund's decision to use such displays successfully enhances their reputation and sets them apart from their competitors. By utilising this innovative technology, they are taking a big step forward in terms of projecting their brand to the wider public. Overall, the LED display will help Brevan Howard Asset Management to create a lasting connection with potential clients, reinforcing their position as leaders in the investment industry.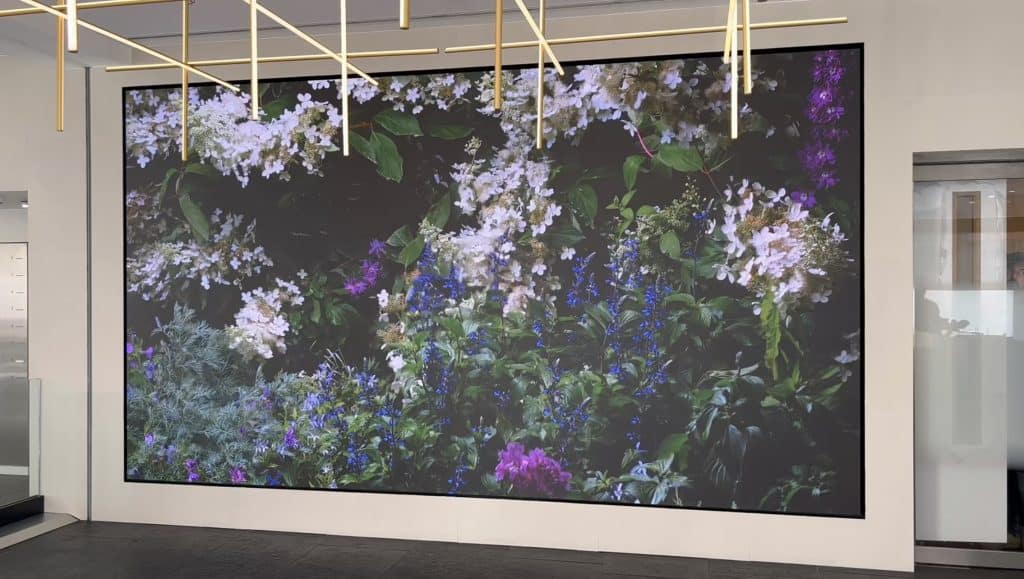 Overall, the installation and commissioning of Brevan Howard Asset Management's 4K P1.2mm LED display demonstrates the immense possibilities brought by technology to branding solutions. The integration of Jardins d'Été by Davide Quayola further elevates the unique aesthetic of this project, combining technology with art in order to create an engaging experience for visitors and clients alike. We are proud of how smoothly our team completed this project while causing minimal disruption to the functioning office. If you're looking for a way to bolster brand awareness through digital art projects like this one, then contact us today.