TESSERA SOFTWARE MAKES SHOW SETUP EASY
The Tessera Software user interface is designed to be accessible even for beginners, with an intuitive graphic interface and clear controls for quick and easy setup of your LED panel wall. You can use the software locally or remotely, and we also have a separate Tessera Control app for simultaneously controlling multiple LED processors.
The software features a helpful video pipeline display at the top of the user interface providing shortcuts to all the logical processing steps you might need. Many project settings – including fixture group position and rotation, global colour settings, and all video input settings – can be stored into presets, which you can switch between with the click of a button.
Quick Association makes associating your panels a breeze. You can even link presets and some variable parameters to live control inputs like DMX512 or eDMX, making it easy to integrate an LED video within a larger system.
Whatever you need, Tessera puts you in control.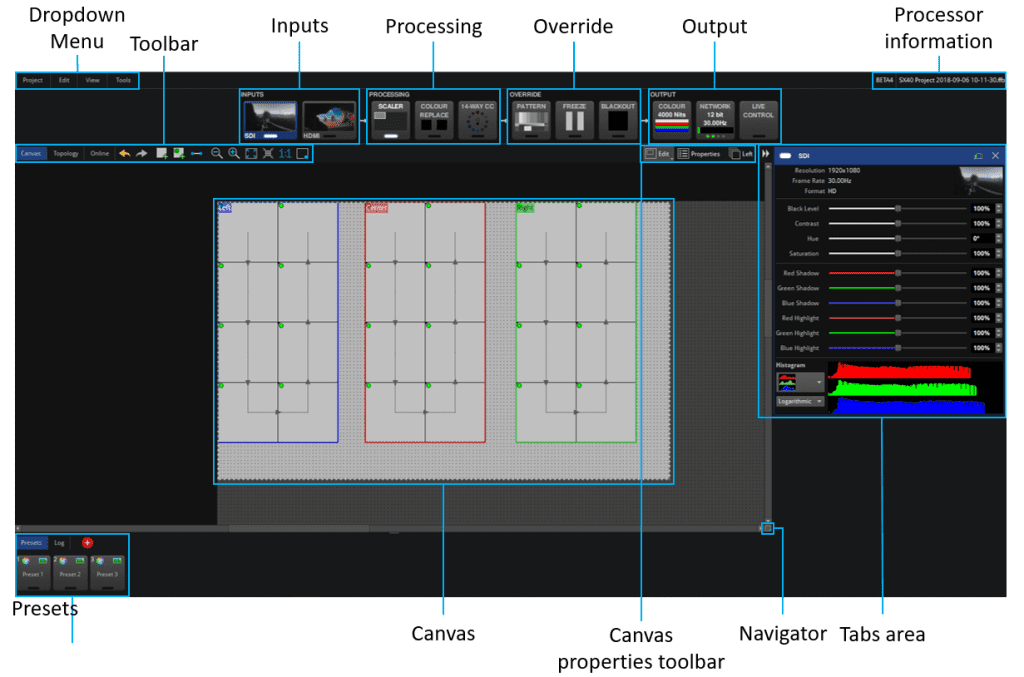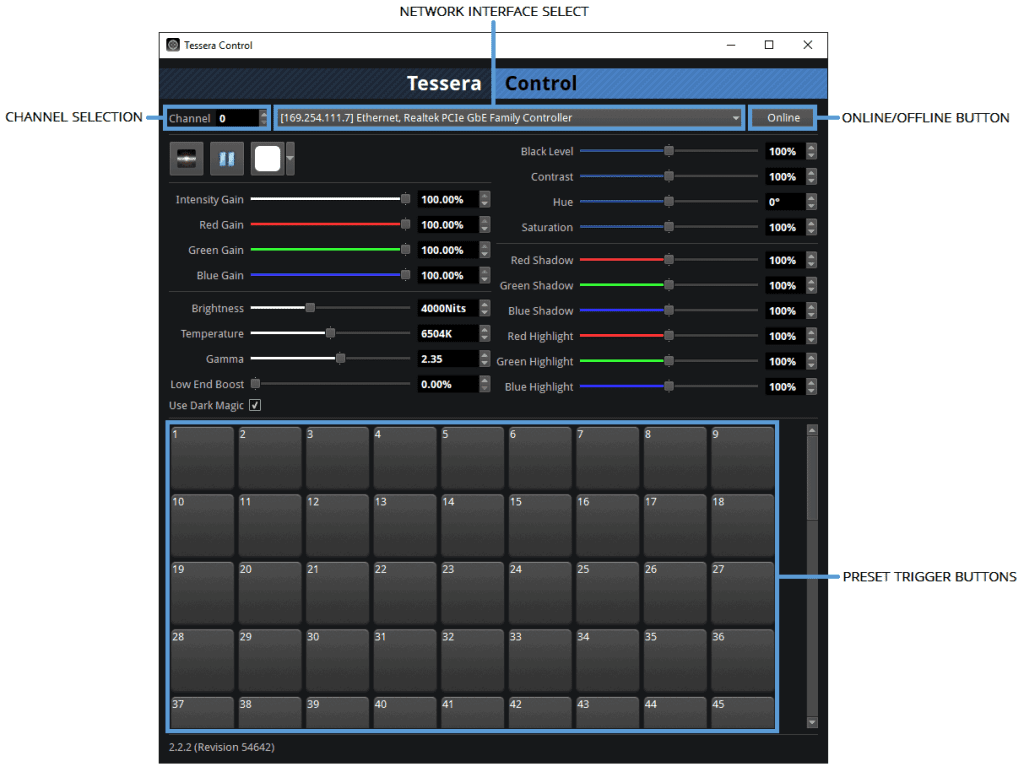 Tessera Control is a simple application, separate from the main Tessera Software and supported by all of our LED processors.
It provides a convenient way of controlling parameters across multiple processors simultaneously, removing the need for a separate lighting desk or lighting control software.
It has a simple, easy-to-use interface with basic controls presented in a similar style to the main Tessera software. These include screen brightness, preset triggering, and input switching.
The Tessera software user interface can be accessed locally, using a monitor, keyboard and mouse connected directly to a Tessera LED processor.
A similar user interface is also accessible by running Tessera Remote software on a Windows PC or Mac connected to the processor via an Ethernet network.
This flexible, remote-control ability allows you to control the system how you like – e.g. from front-of-house, with the processor beside the video wall.
This ensures the best, most convenient view for you, and keeps the complicated cabling stage-side.
The Tessera software can even be used in Offline Editor mode, so you can work on project files offsite, without a processor present.
Create your project ahead of time, including all your processor configurations, choosing panel types, and mapping your layout.
Once you're online and on site again, it's as simple as associating the panels and you're all done.
For seamless integration with a lighting control system, the Tessera SX40, M- and T-Series LED processors offer live control via DMX512 or eDMX protocols like Art-Net.
All Tessera LED processors come with a number of pre-built profiles that offer commonly used sets of controls. Use these pre-built profiles to save time on the lighting desk, or build your own custom profiles with a tailored set of controls.
Profiles can be updated at up-to the video frame rate, for real-time dynamic control. In addition to industry-standard 
Configure your channels to control many parameters, including:
"Brompton is very respected in the virtual production industry for its friendly user interface and flexible features for things like color correction control and tuning the LED wall settings specifically to the camera"
Evolve CX