Dynamo LED and Dixons Carphone Retail Create Oxford Street LED Extravaganza!
Dixons Carphone PLC, Europe's largest technology retailer and winner of the prestigious retailer of the year accolade at the retail week awards chose Dynamo LED to install 14 LED video displays at their brand new flagship store on London's Oxford Street.
The leading specialist electrical and telecommunications retailer and services company – which consists of PC World, Currys and Carphone Warehouse declared the LED feature wall, made up of four individual LED video displays and spread over a 4K resolution with over 4.3 million pixels a total success.
The p3mm LED walls were each built into an 80mm deep recess with a custom frame allowing front access for maintenance and finished off with a muraspec surround. Altogether a total of 1027 modules each measuring 192mm x 192mm were used on the 4 displays which can be used to show content both individually and as one huge display in what became commonly known as the "takeover". The store were extremely savvy in the fact that they not only show their own content on the video displays but they have created a whole new revenue stream by renting out advertising space to a select few of their suppliers such as GoPro, Sony, Bosé, Samsung and FitBit.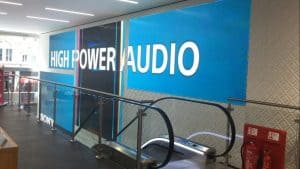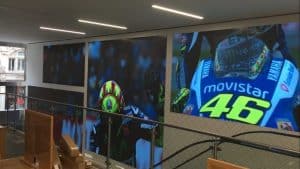 The brand new store also boasted a custom built, creative LED window display with 9 separate LED screens that are programmed to show the latest offers alongside manufacturer Logos and videos. The custom built design also doubles as a product display stand which allows the latest products to sit on top of it.
Daniel Reynolds, director of Dynamo LED when talking about the LED window displays was quoted as saying "One of the things that really stuck out for me was the vast amount of people who stopped to view the display as they were walking past, this demonstrates the power of creative LED to engage with prospective customers and increase footfall within retail stores"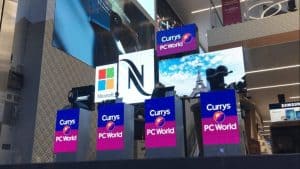 The store didn't stop there either, the success of the LED installation inspired the designers to request that Dynamo LED Displays install a landscape LED video display measuring 4416mm x 960mm above the exit showing custom made content to further enhance the digital customer experience befitting of Europe's largest technology retailer.