Indoor Rental Cabinet SMD (RGB) with P3.9mm pixel pitch
The Dynamo DR series has a simple yet effective industrial design whose characteristics include fast installation, assured flatness, and extremely reliable gap control. The Dynamo DR series focuses on reliable and accurate installations as well as high-definition images, dynamic animation effects, and vivid video playback.
Bring your events to life with the p3.9mm Indoor Rental LED Cabinet SMD (RGB). This powerful cabinet is designed for indoor use, and its premium construction ensures long-lasting performance. With its 1920 full-color RGB LEDs, it offers stunning visuals, while its energy-efficient design keeps costs low. Plus, its advanced lighting control capabilities let you customize the look and feel of your displays so you can make the most out of any event. With the p3.9mm Indoor Rental LED Cabinet SMD (RGB), you can create vibrant displays without worrying about maintenance or cost!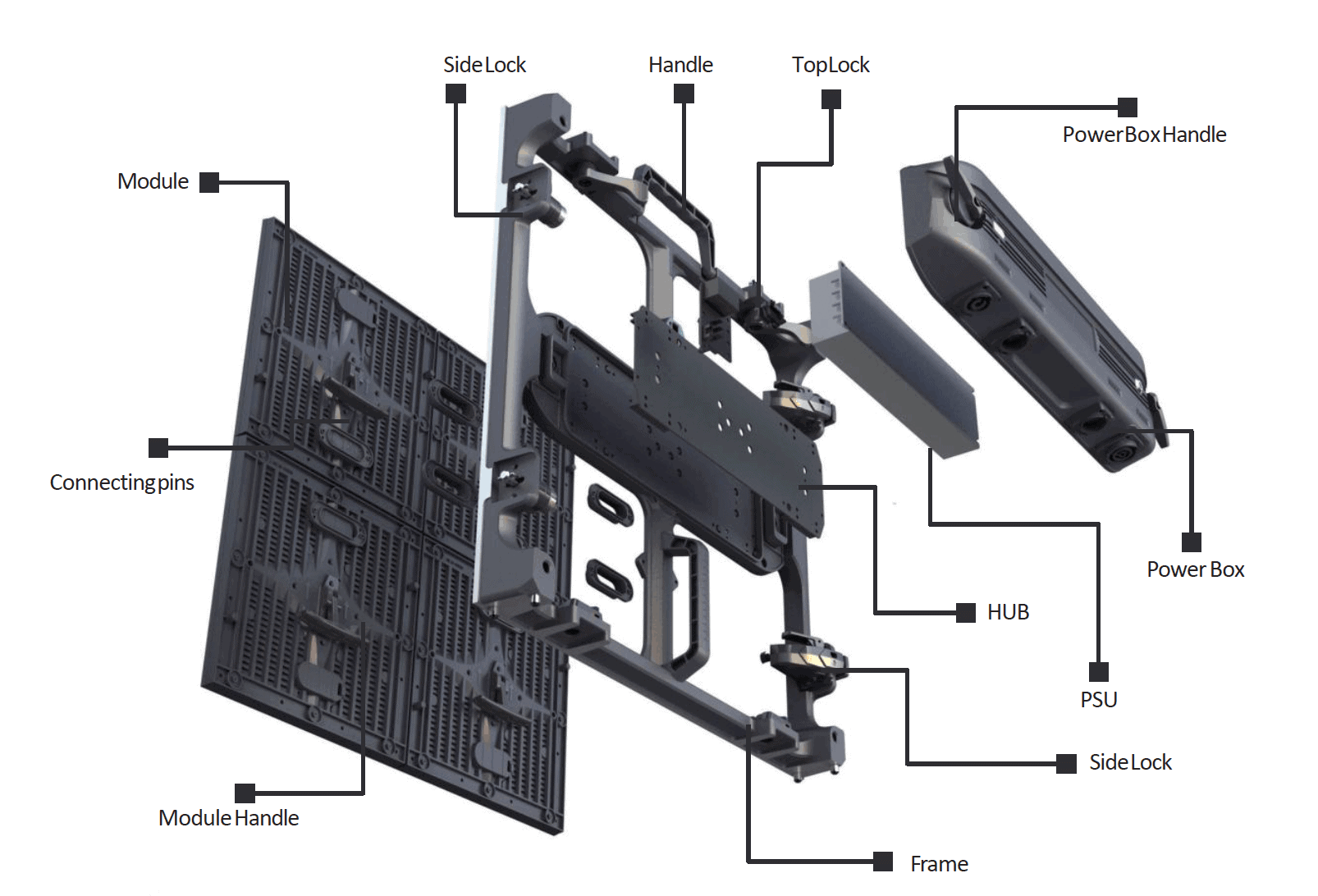 Hanging
Rigid and strong stacking frame to ensure stability and create a safe installation
Quick Maintenance

Magnetic module design enables quick front/rear service for balance and ease of use. For flatness and safety, two handles can be used to remove the power box which is one of the quickest designs in the industry.
Quick Install

 Our quickest-ever top locks for either stacking or hanging, with simply a click to self-lock the two cabinets. There's clear click feel as well as a visible sign designed to indicate the lock status. Handles are then used to tighten the connection and eliminate gaps. The locks are easy enough even for one man to uninstall. The 7-12kg panel weight provides an acceptable experience to temporarily hold the cabinet by one hand, leaving the other hand free to release locks.
Curve LED Cabinets

Easy-to-use LED display cabinets that can curve up to 10º. With guidance locks on the cabinets, we can set an angle in degrees to create curves with incredible visual properties that suit the installation. A perfect side locking system should deliver a great combination of seamless connection, a good handling experience and reasonable cost. Dynamo DR series has two sets of curable side locks to ensure a solid connection. The accurate machining delivers a seamless connection up to 5 degrees convex at 2.9mm, which has always been a challenge in the industry.
Memory on Module

The memory on module function is integrated into the design of all models of the Dynamo DR series. This produces easy configuration when replacing modules.
Tested by recognised facilities the Dynamo DR series die-casting aluminium cabinet has shown high strength. Tensile tests have shown it can reach 15.69KN while testing of high and low temperatures via hot and cold cycle tests show the die-cast aluminium materials have proved to be more than stable and are not as susceptible to deformation than magnesium alloy materials. Because of this the Dynamo DR series high level of precision on the cabinets can be guaranteed.
Safety Certificates Include
EMC,  LVD,  ETL, CE
Specifications:
Parameter

DR 2.9S

DR 3.9S

Physical

Parameter

Pixel Configuration

SMD2020

SMD2020

Pixel Pitch (mm)

2.97

3.9

Pixel matrix per panel

168×168

128X128 / 128X256

Pixel density(pixels/sq.m.)

112896

65536

Cabinet Dimensions (LxWxH)/(mm)

500*500*85

500*500*85 / 500*1000*85

Module Dimensions (LxWxH)/(mm)

250*500*16

250*500*16

Panel material

Die Casting Aluminum

Die Casting Aluminum

Cabinet weight (kg/panel)

7.3

8 or 12

Module weight (kg/panel)

0.7

1.25

Electronic

Parameter

Colour Grayscale (Bit)

14 bit

14 bit

Gray Scale per Colour (level)

16384

16384

Refresh Rate(Hz)

1920-3840

1920-3840

Driving Type

1/21

1/16

Signal Transmission Distance (m)

CAT5 cable:<100 m;
Single mode fiber:<10 km

CAT5 cable:<100 m;
Single mode fiber:<10 km

Optical

Parameter

Brightness(nit)

1000

1000

Optimal Horizontal Viewing Angle(°)

160

160

Optimal Vertical Viewing Angle(°)

160

160

Electrical

Parameter

AC Input Voltage(V)

AC: 100V~240V

AC: 100V~240V

AC Input Power Maximum Value(W/m²)

460

480

AC Input Power Typical Value(W/m²)

154

160

Circumstance

Parameter

Storage Temperature(℃)

-40 -60

-40 -60

Working Temperature (℃)

0~40℃

0~40℃

IP rating (Front/Rear)

IP40/IP20

IP40/IP20

Storage Humidity (RH)

10%~90% non-condensing

10%~90% non-condensing

Working Humidity (RH)

10~60% non-condensing

10~60% non-condensing

Lifetime Typical Value(hrs)

≥100000

≥100000

Installation Type

Cabinet installation type

Fix/Rental

Fix/Rental

Vertical lifting limit ( cabinets pcs )
20
20