Outdoor LED Rental Cabinet SMD (RGB) with P4.8mm pixel pitch
The Dynamo DR Outdoor LED Rental cabinet has a simple yet effective industrial design whose characteristics include fast installation, assured flatness and extremely reliable gap control. The Dynamo DR series focuses on reliable and accurate installations as well as high-definition images, dynamic animation effects and vivid video playback.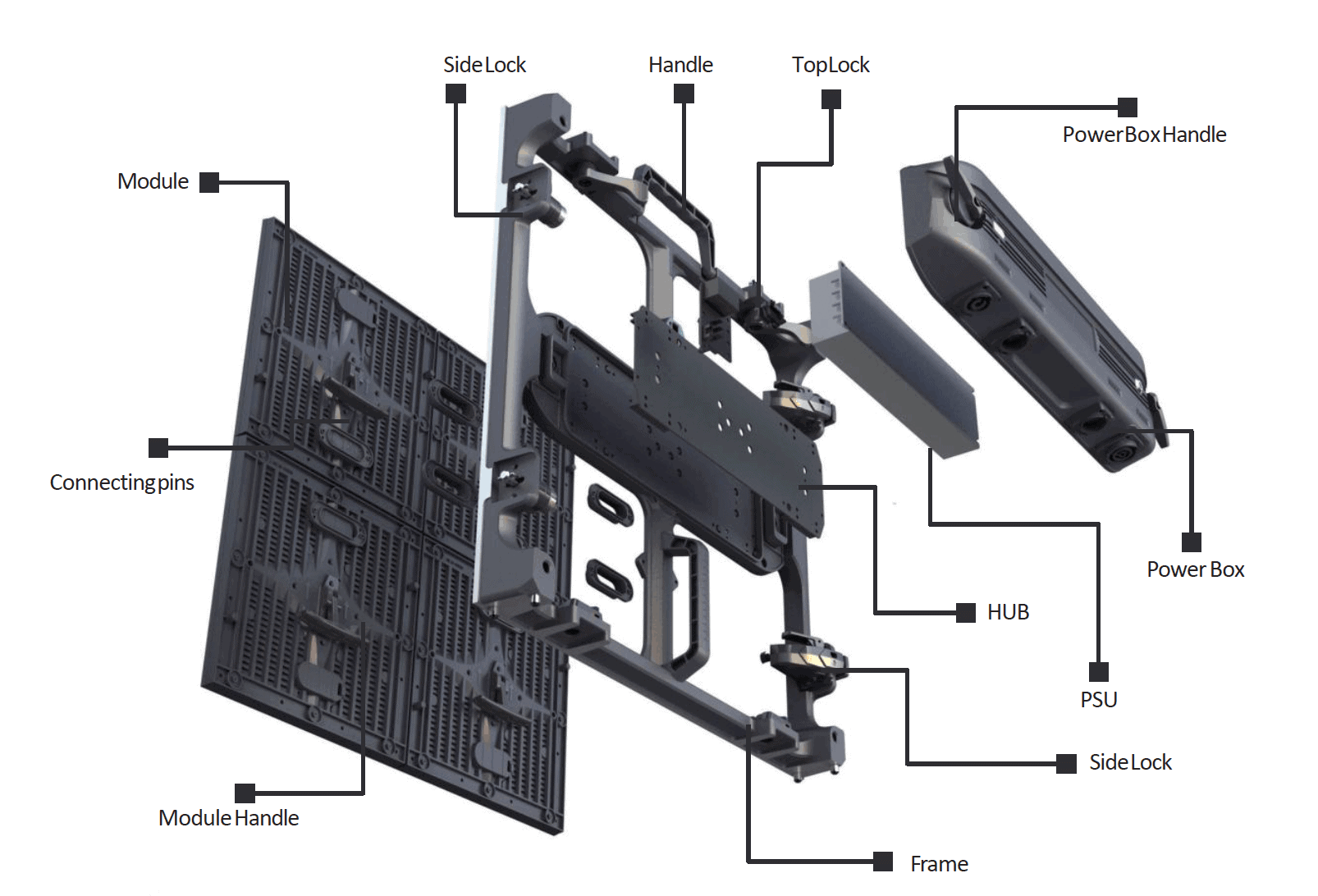 IP65 Outdoor LED Cabinet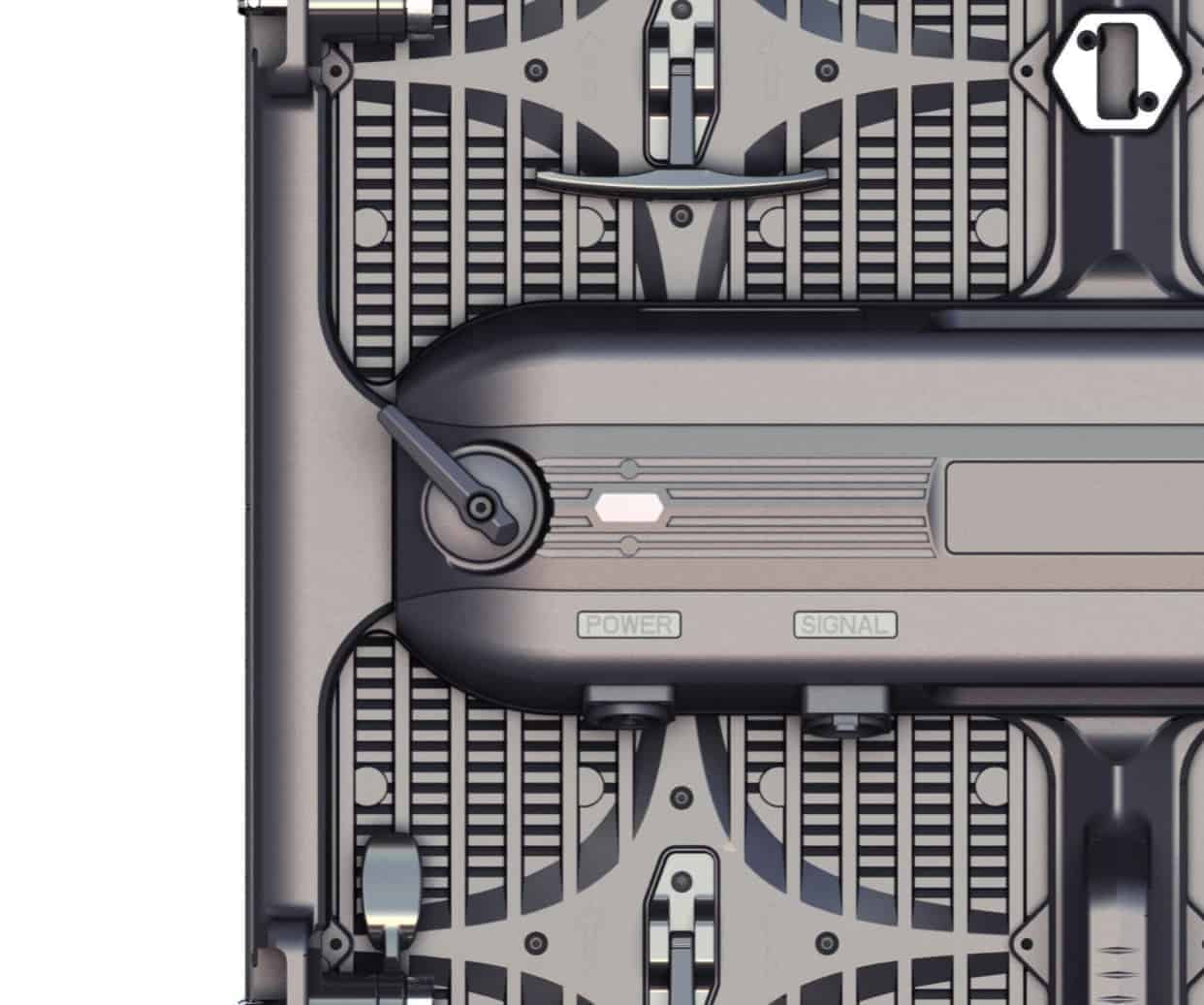 Our outdoor LED rental cabinets are IP65 rated on the front and IP54 on the rear and with a working condition humidity between 10%-90% fantastic visuals are guaranteed in all weather conditions and climates.
Hanging LED Cabinet
Specifications:
Parameter

DR 3.9S

DR 4.8S

Physical

Parameter

Pixel Configuration

SMD1921

SMD1921/2525

Pixel Pitch (mm)

3.9

4.8

Pixel matrix per panel

128×128 / 128×256

104×104 / 104×208

Pixel density(pixels/sq.m.)

65536

43264

Cabinet Dimensions (LxWxH)/(mm)

500*500*85 / 500*1000*85

500*500*85 / 500*1000*85

Module Dimensions (LxWxH)/(mm)

250*500*16

250*500*16

Panel material

Die Casting Aluminum

Die Casting Aluminum

Cabinet weight (kg/panel)

8/12 Kg

8/12 Kg

Module weight (kg/panel)

1.25

1.25

Electronic

Parameter

Colour Grayscale (Bit)

14 bit

14 bit

Gray Scale per Colour (level)

16384

16384

Refresh Rate(Hz)

1920-3840

1920-3840

Driving Type

1/16

1/13

Signal Transmission Distance (m)

CAT5 cable:<100 m;
Single mode fiber:<10 km

CAT5 cable:<100 m;
Single mode fiber:<10 km

Optical

Parameter

Brightness(nit)

5000

5000

Optimal Horizontal Viewing Angle(°)

160

160

Optimal Vertical Viewing Angle(°)

140

140

Electrical

Parameter

AC Input Voltage(V)

AC: 100V~240V

AC: 100V~240V

AC Input Power Maximum Value(W/m²)

690

611

AC Input Power Typical Value(W/m²)

230

203

Circumstance

Parameter

Storage Temperature(℃)

-40 -60

-40 -60

Working Temperature (℃)

-30~50

-30~50

IP rating (Front/Rear)

IP65/IP54

IP65/IP54

Storage Humidity (RH)

10%~90% non-condensing

10%~90% non-condensing

Working Humidity (RH)

10%~90% non-condensing

10%~90% non-condensing

Lifetime Typical Value(hrs)

≥100000

≥100000

Installation Type

Cabinet installation type

Rental

Rental

Vertical lifting limit ( cabinets pcs )
20
20