Features
Revitalize Indoor Customer Engagement
Samsung's fine pixel pitch IF-E Series LED displays captivate customers through more realistic and memorable content. The IF-E Series combines industry-best video processing technologies with High Dynamic Range (HDR) picture refinement for added clarity and sophistication.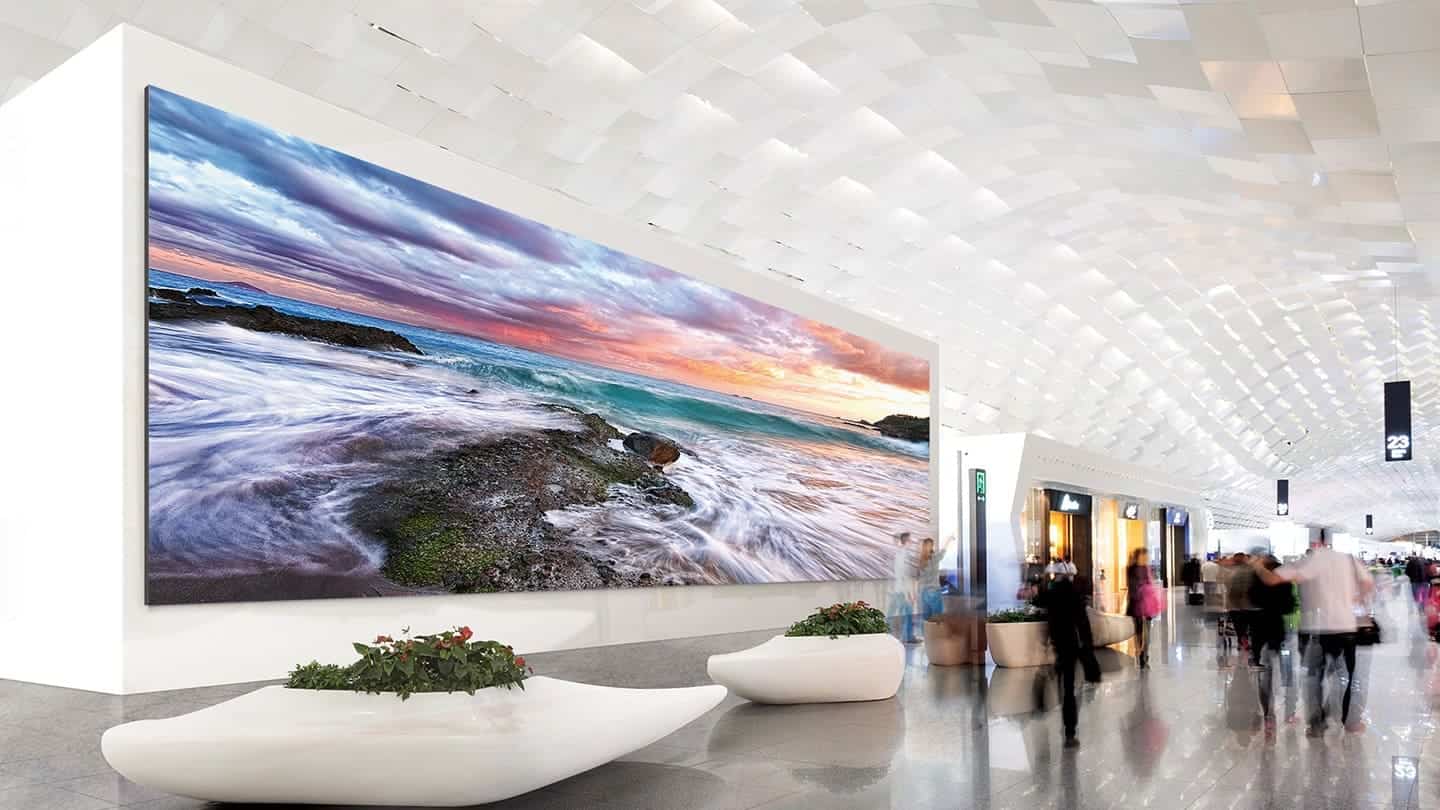 Bright And Clear LED Expression
The IF-E Series' integrated HDR adaptation optimizes gradation within individual scenes for a consistent, dazzle-free presentation. For added detail and quality, the displays' complementary dynamic peaking elevates peak brightness to levels nearly two times higher than the standard LED maximum.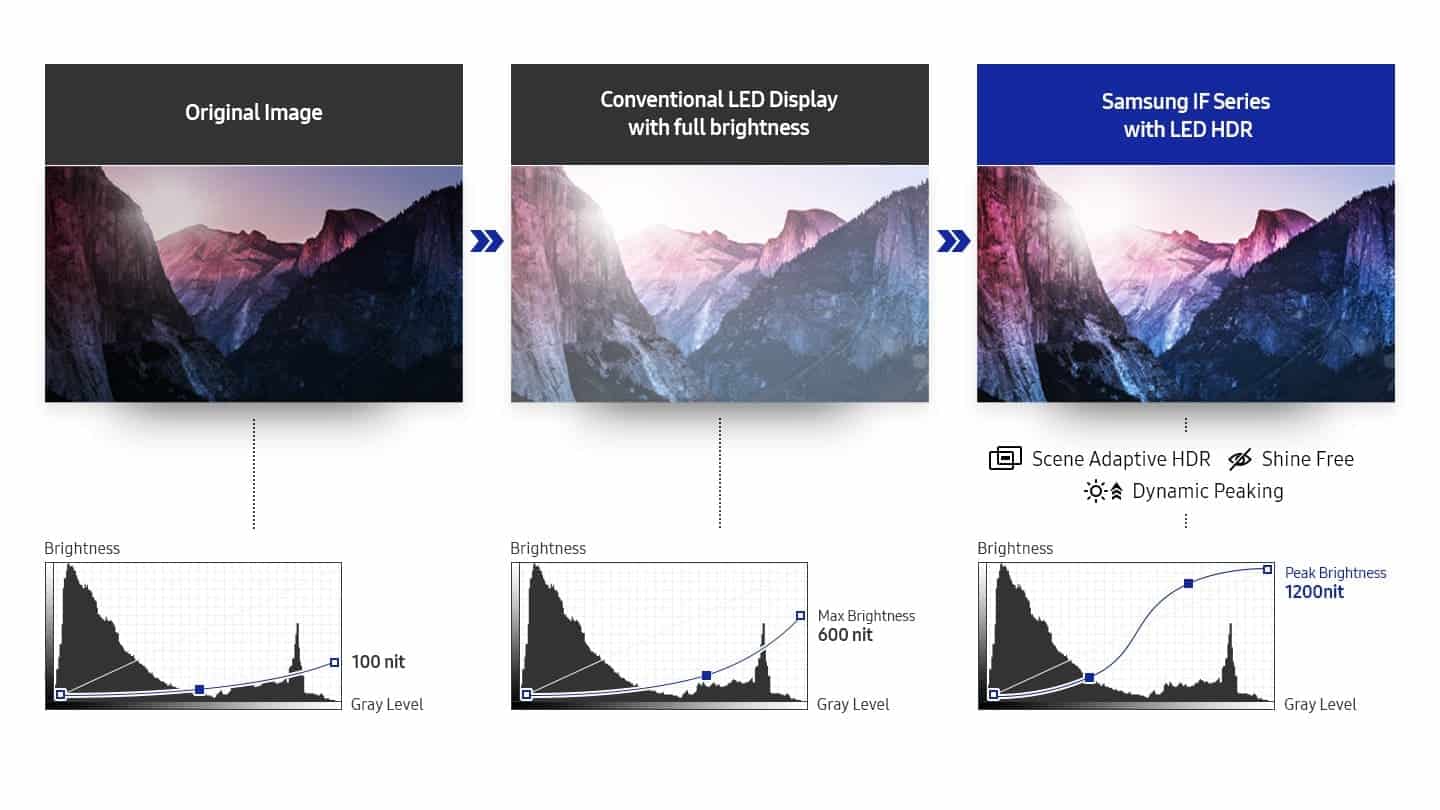 *Peak/Max Brightness can differ by model code
Accurate Color in Low Brightness Arena
Conventional LED displays struggle to present red, green and blue color hues accurately in low grayscale settings. The IF-E Series overcomes these challenges through a unique algorithm that maintains R/G/B gradation and delivers precise, detail-rich hues in low-brightness indoor environments.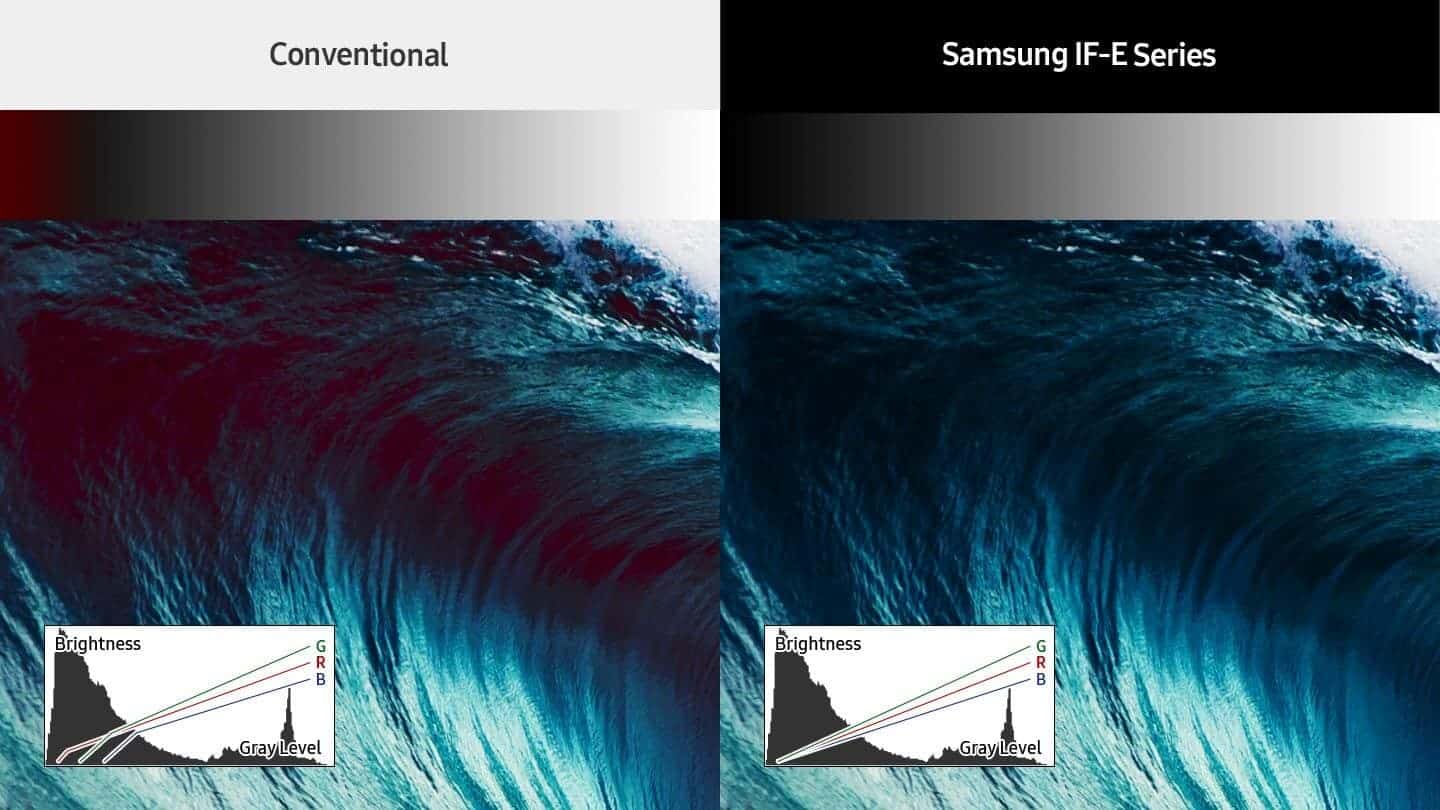 Detailed, Customized Color Presentation
Compatibility with various color gamut settings allows broadcast studios, galleries, and other specialized indoor operations to customize color expression for their unique needs. This compatibility preserves color accuracy and visual power and ensures that content catches the eye and resonates.
Consistent, Uniform Content Delivery
Each IF-E Series display undergoes thorough factory calibration to optimize sub-pixel uniformity, brightness, and color chromaticity out of the box. Samsung also provides convenient, DSLR camera-driven on-site calibration that prevents the need for radiant cameras and external software.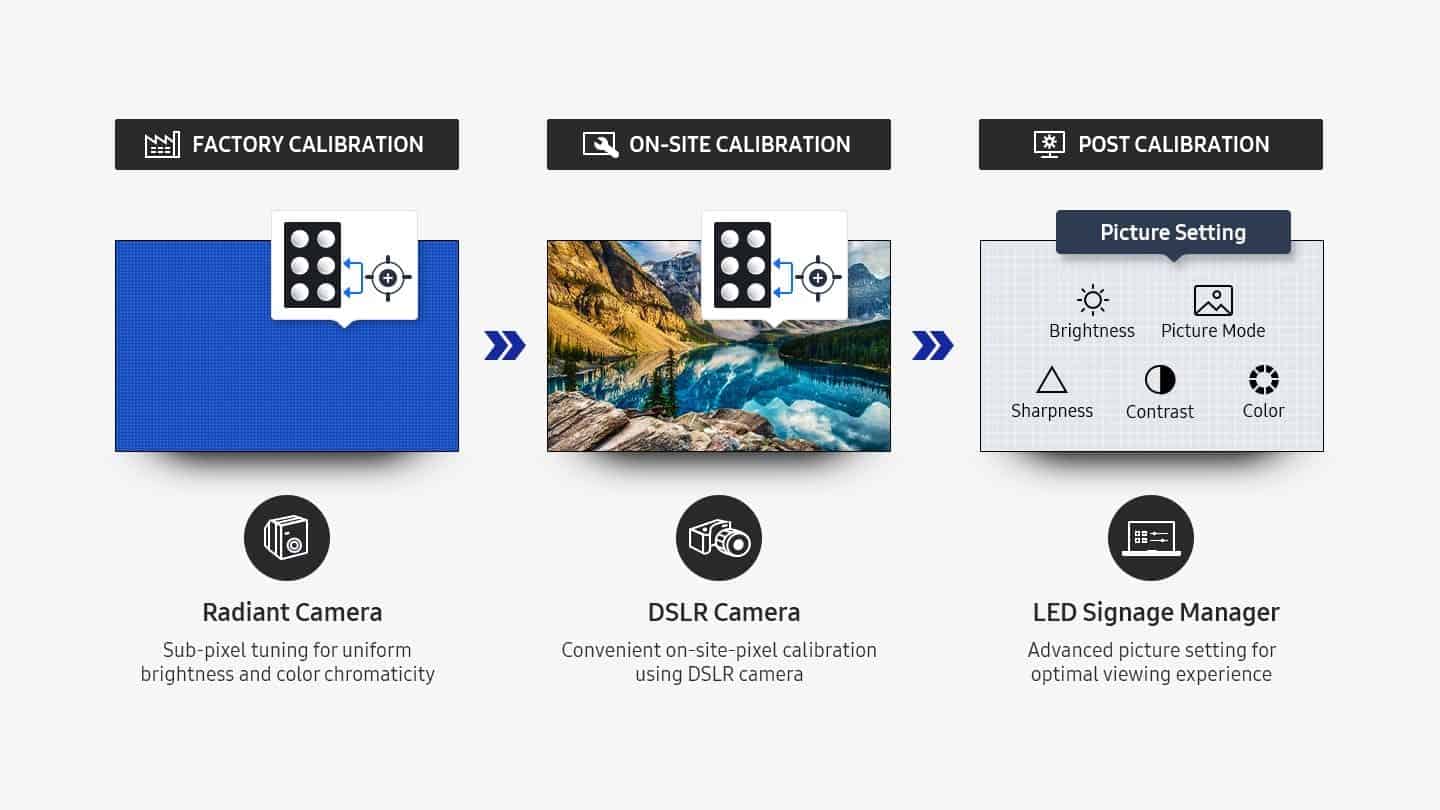 Clean And Hassle-free Installation
The IF-E Series' compact design ensures a flexible, seamless implementation in any indoor setting. Full-front access to critical signage components ensures a tidy activation free of catwalk space, while versatile rear access offers more convenient, quick-turn maintenance.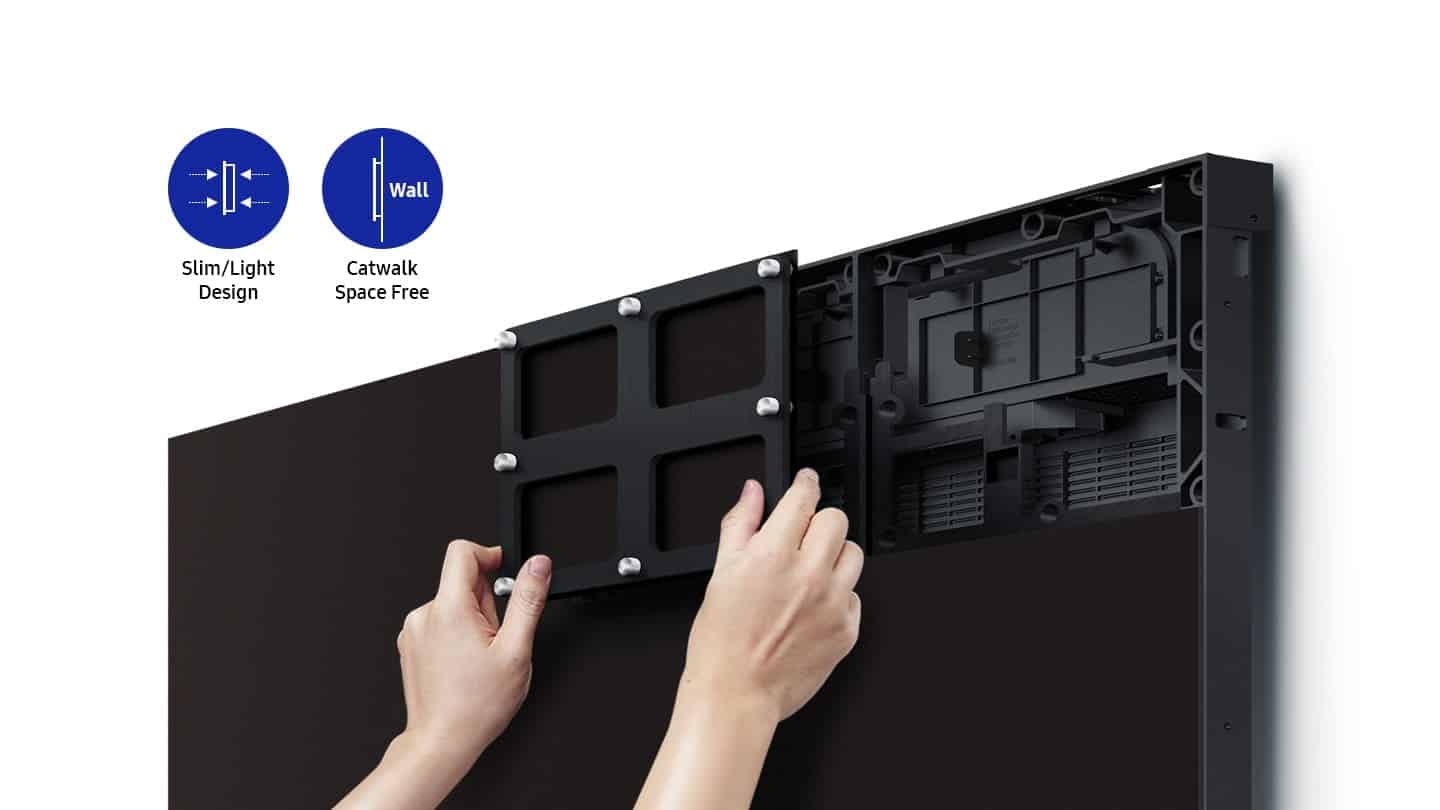 Versatile and Efficient Operations
Durable, Long-lasting Performance
An energy-efficient cabinet design extends the IF-E Series' lifespan while reducing operational costs. The IF-E Series includes advanced temperature and ventilation management settings and a fanless design to ensure uninterrupted content delivery in potentially variable environmental conditions.