Samsung LYNK Reach Server
Samsung LYNK REACH®
A convenient hospitality TV management solution that enables property managers to centrally control and display customized content on multiple Samsung hospitality TVs, providing guests with an in-room experience that makes them feel right at home

It's not just a TV, it's an in-room concierge
Regardless of the type of property or infrastructure, today's guests expect a differentiated, luxurious experience that offers the same comfort and convenience they enjoy at home. Samsung's LYNK REACH 4.0 (Remote Enhanced Active Control for Hospitality) content management solution enables hoteliers to provide guests a personalized in-room experience with an at-home feel, while simultaneously improving operational efficiency.

Control content on hundreds of TVs at once
Eliminate room-by-room visits to each guest room by using a single-location remote solution. The REACH (RF) Server delivers updated firmware and other settings to TVs through RF signals. REACH (IP) is also available for centralized control of SMART hospitality TVs without the need of additional hardware. Updates are simple and simultaneous, so there's no need to go from room to room to update each display with USB Cloning. This way, your staff has more time to focus on other ways of improving the guest experience.

Reinforce your brand
Extend your hospitality beyond your front lobby and into your rooms for a tailored, personalized guest experience. With the fully customizable Graphical User Interface (GUI), you can choose from the pre-built templates or upload your own assets to develop a GUI from scratch. Plus, Samsung has a network of certified REACH integration partners who can also provide turnkey solutions.

Keep your guests informed
With LYNK REACH, you can offer your guests easy access to a wide variety of information and services. Depending on your infrastructure, services can include billing information, flight information, language settings, wake-up call, weather and more.

Keep your guests entertained
LYNK REACH provides channel management capabilities including a customizable interactive program guide. Additionally, with third-party casting services, your guests can connect their mobile devices to the in-room screen. With a few easy steps, they can access 1000+ apps for an exceptional entertainment experience.
EAN # : 8806090952791
Samsung LYNK™ REACH and LYNK REACH Server
Flexible, easy-to-use and low cost solution for hospitality TV management over coaxial infrastructure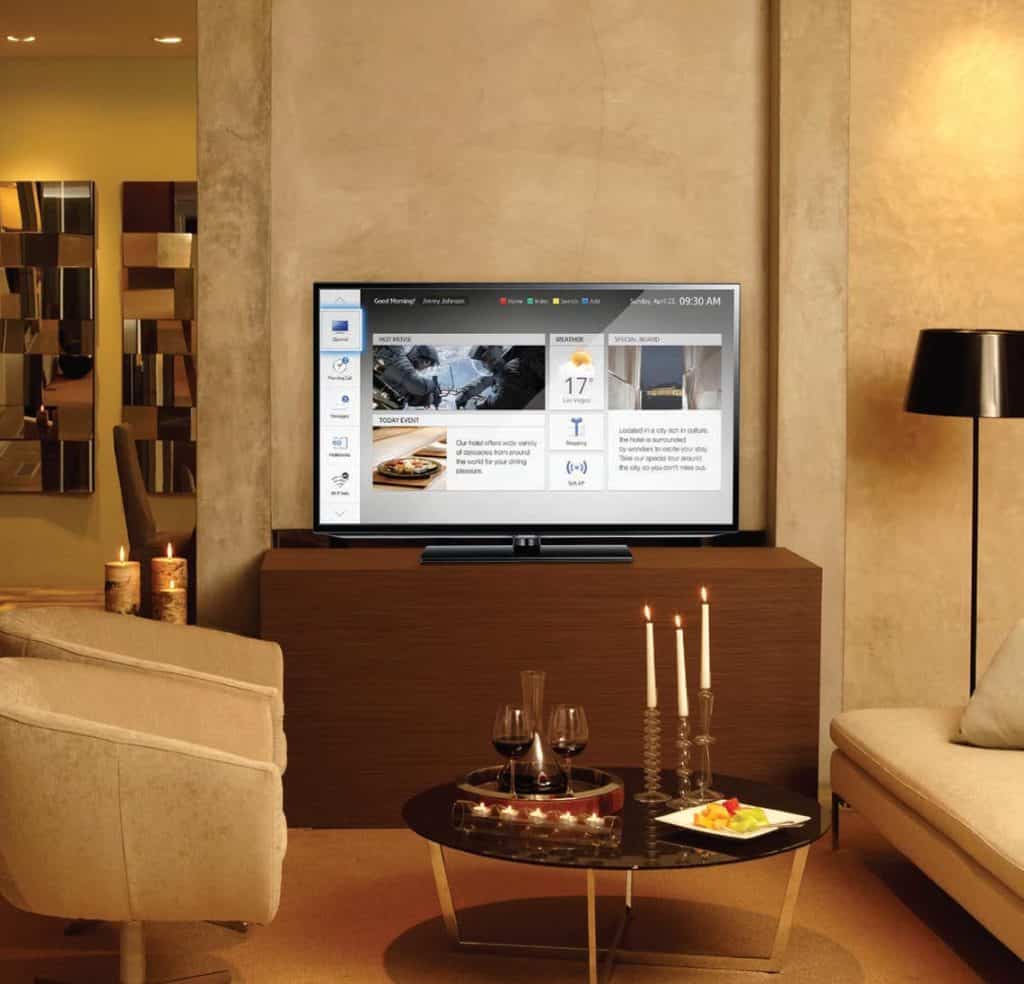 Manage hospitality displays using existing infrastructure
A look at the current IT infrastructure situation in the hotel industry reveals 95 percent of hotels utilize coaxial cables. Typically, property managers enlist personnel to visit every guest room to perform system upgrades, set changes and other maintenance. Manually updating each TV throughout the property consumes valuable labor and operational costs. A manual process
requires additional equipment and maintenance, contributing to continually rising costs associated with digital TVs (DTVs) on
properties.
Samsung LYNK REACH and LYNK REACH Server are a software and hardware solution for better managing and maintaining guest room TV content. Property managers can provide a variety of information for customers and other information that the hotel wishes to provide to them through coaxial cables. The property managers can change the background, text, image or logo on the TV with user-friendly content editing tools. Plus, users can create the desired information accurately and easily by viewing the content on a full screen.
LYNK REACH: LYNK REACH is a specialized software for hospitality environments, which provides a simplified UI and editing tool. This software solution organizes and displays content, such as hotel information, images and logos, using
existing infrastructures.
LYNK REACH Server: LYNK REACH Server is a dedicated server for using the LYNK REACH software solution, which provides a flexible UI. REACH Server provides a straightforward way to manage several hundred hospitality displays remotely from one central location.
LYNK REACH is designed exclusively for hospitality businesses to help create more cost-efficient room display management. Perform upgrades and edit display interfaces remotely from one centralized location.
Avoid the labor involved in room-by-room updates of guest TVs
Manage multiple TVs simultaneously from a central location with the LYNK REACH Server
Typically, properties must upgrade TV firmware and deliver content updates and channel mapping changes by deploying personnel throughout the site. Staff members use cloned USB devices to update each room display one at a time.
LYNK REACH interface is designed to display content on in-room screens and provide PC-based content management for hotel personnel. In-room screen content includes hotel information, weather, and marketing messages for guests. The interface helps content managers readily edit and manage information and at the same time be able to provide content through the REACH server. With remote upgrades using the LYNK REACH Server, staff members can eliminate service limitations and interruptions, leaving them more time to deliver customer services.

Personalize in-room display information with a fully customizable content management solution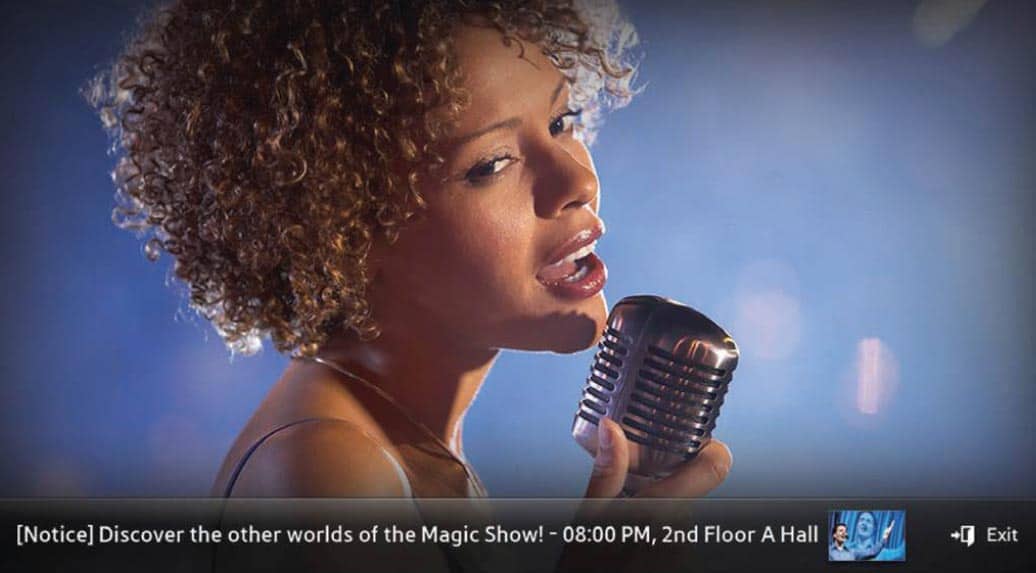 Access content more quickly through interfaces designed for ease of use
The LYNK REACH interface is designed to display content on inroom screens and provide PC-based content management for hotel personnel. In-room screen content includes hotel information and marketing messages for guests displayed on a ticker. The interface helps content managers readily edit and manage information. For example, a resort or hotel known for its cold-weather amenities might display slope conditions, available spa times and discount ticket packages. A hotel with on-site restaurants can advertise new menu options or special local promotions, such as food or event discounts that are available to guests. These messages can be scheduled to run at certain intervals to increase guest attention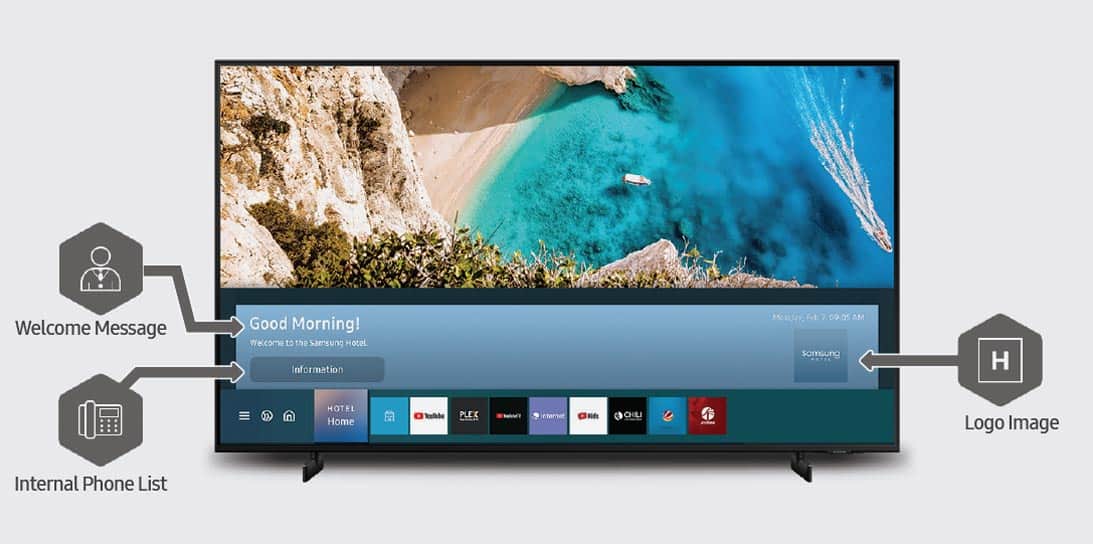 An attractive, intuitive UI helps guests find services, information and entertainment.
LYNK REACH comes equipped with familiar, intuitive UIs for hotel staffers and guests. The LYNK REACH solution contains a simplified tree hierarchy of settings that resembles a desktop folder system. Enhanced visual contrast between the list of settings and the working window helps employees find the setting or element to be modified without delay. LYNK REACH provides a selection of different UIs to set up a customized property portal. The UIs included with LYNK REACH are highly flexible with features such as editable background messages and images.
Provide hotels with greater freedom for customized UI design and creation

LYNK REACH solution is based on a simple WYSIWYG (what you see is what you get) interface. This allows property managers to easily create their own menus without system integrators or installers. LYNC REACH provides various types of templates including a blank page enabling property managers to efficiently organize and manipulate any aspect of UI content including background color, picture, text, main-page and sub-page. The property manager can even resize a menu and transfer it to any desired screen while generating and editing content. The basic TV menu supporting its native features, such as alarm clock, can be integrated into the customized template using LYNK REACH. And with the group management feature, a dedicated UI can be designed and deployed for a particular person or group.
Deliver weather, event and flight information to displays in near real time
Help guests find property services and information
Guests can access services and find information with a UI that fills the DTV screen and functions like displays on most in-home large format TVs. Using the service and information menus is straightforward so
that guests can more easily access the resources they need. Plus, multiple languages are supported, providing a property the ability to cater to and communicate with global visitors.
Useful hotel information
Using customizable widgets, hoteliers can display useful information such as room service, restaurant and spa menus.
Weather information
The weather information is automatically updated, providing guests with the latest weather information for planning their outdoor activities.
Timely flight information
Availability of up-to-date flight information is of great benefit to guests who want to coordinate their checkout time with their flight departure.
Hotels can show airport flight information on-screen via a separate purchasing license key from third-party service providers.
Advertisements and events
Property owners can increase revenue by providing and servicing paid advertisements and information about neighborhood shopping, restaurants and attractions.
Welcome message
Property owners can welcome guests with an on-screen message in the guest's native language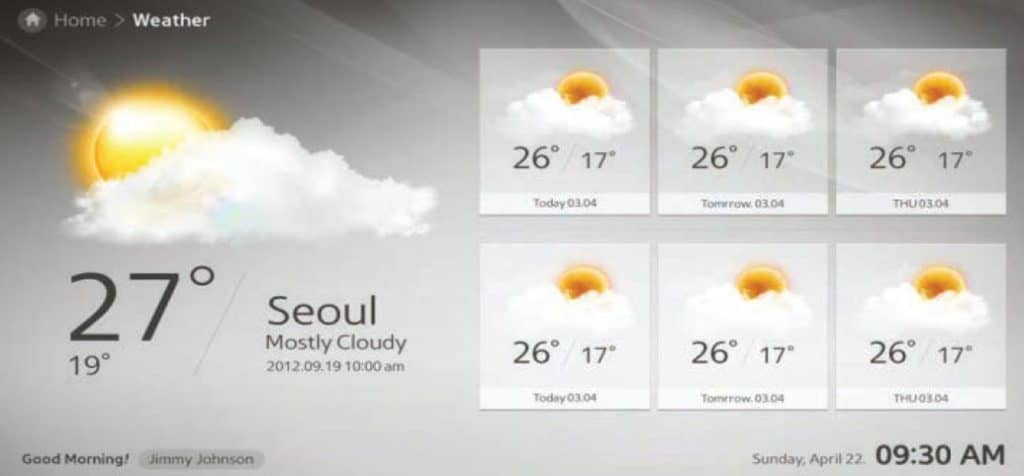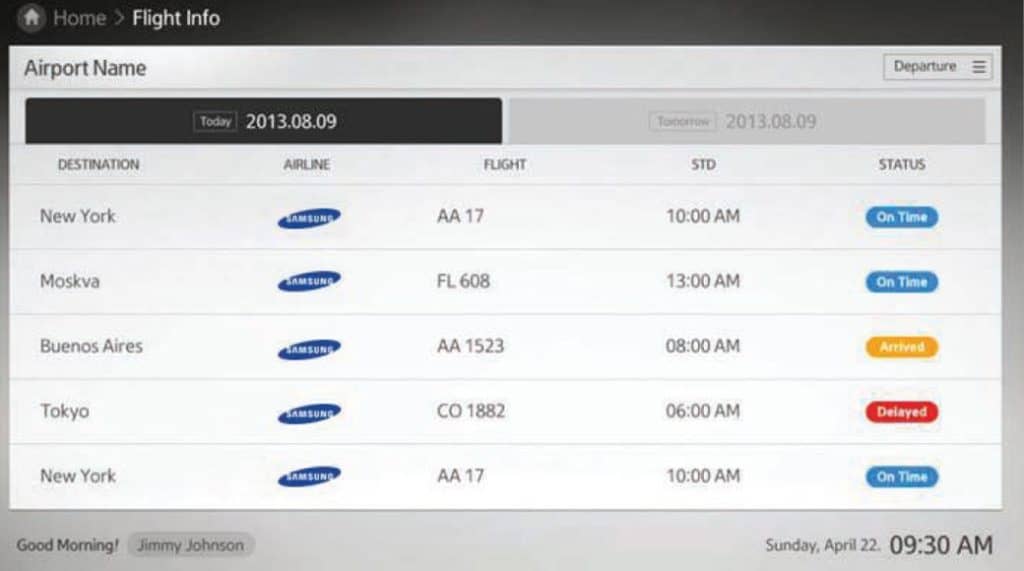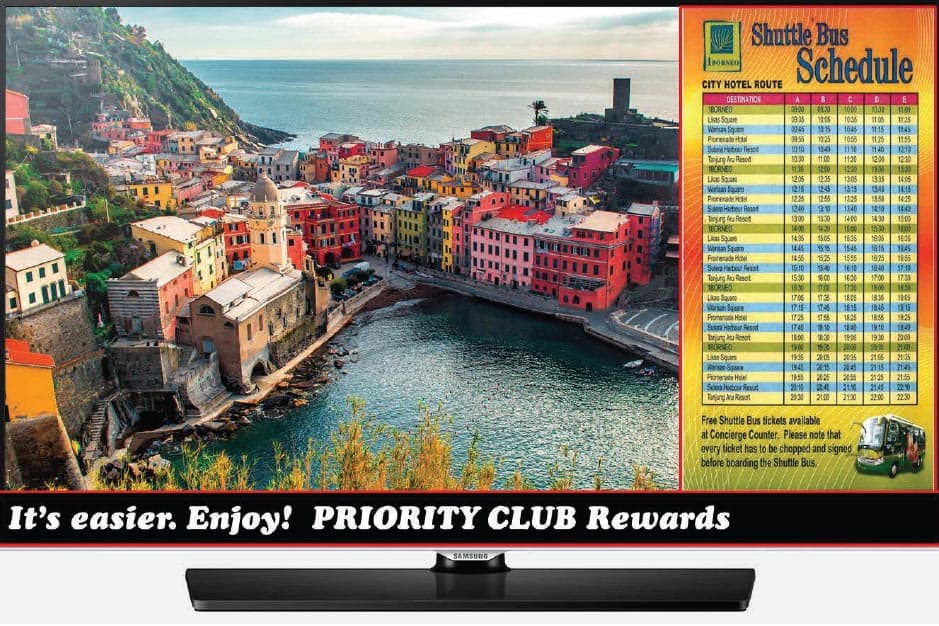 Guests can access TV content and information through an interface that matches a property's brand image, location or amenities.
Samsung LYNK REACH and LYNK REACH Server
Benefits

Companies save labor costs by eliminating the need to visit each room individually to perform firmware and software upgrades.

Customizable UI and multiple language support with hotel, weather and local event information

Hotels can cater to guests' needs and deliver an enhanced guest experience.

Service content expansion

Property managers can deliver marketing messages and weather information to a specific room or event group without interrupting TV content.

Embedded server and software solution that works with existing infrastructure

By implementing the Samsung LYNK REACH solution, hotels can experience advanced features without purchasing expensive STBs or installing IP networks.
CY-HDS02A

Windows® Embedded Standard 7

AMD Radeon HD 6320 Graphics

AMD Radeon HD 6320 Graphics

DVB-C (2.694 - 8.28 MHz), open cable (6 MHz)

Power consumption (Rated) (Watts)

Power consumption (Stand-by) (Watts)

Set dimension (w/o bracket)

422.0 x 200.8 x 46.0 mm / 16.6 x 7.9 x 1.8 in

Set dimension (w/ bracket)

477.6 x 200.8 x 46.0 mm / 18.8 x 7.9 x 1.8 in

521.0 x 278.0 x 98.0 mm / 20.5 x 10.9 x 3.8 in.

Quick setup guide 
Warranty card 
Power cord
Rack mounting brackets