In this time of the Coronavirus, it has become increasingly important to keep track of how many people are in one indoor space at one time. Social distancing and CDC guidelines require that there aren't too many people in the same area, but using an employee to count the people is inefficient and tedious.
This creates an obvious issue. There's a need for employees on the floor to ensure proper safety and health measures are being followed.
Yet, there still needs to be a way to keep track of people as they come in and come out.
This issue can be solved with the latest in LED technology known as people counters for indoor spaces. Dynamo LED has created a simple and effective way to manage indoor capacities during the COVID-19 crisis and beyond. Our digital people counters make it simple to follow guidelines with real-time data displayed on digital signage at any location that needs it.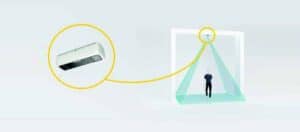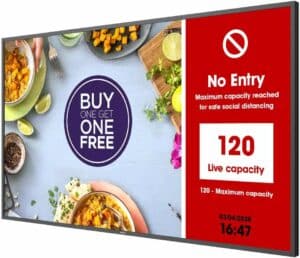 BENEFITS OF A PEOPLE COUNTING SYSTEM
When you install our people counter into your building at the entrance and exit, you can guarantee a live stream of accurate capacity data. This information allows you to decide whether or not to allow additional people into your store or office. You'll also be able to get a visual representation of when you're at maximum capacity. 
The responsibility of crowd control has fallen on individual businesses during this time. Now, it is your responsibility as a business owner to ensure your customers' safety and your staff who are working during these unprecedented times.
SUPPORTED INDUSTRIES FOR PEOPLE COUNTERS
The COVID-19 pandemic has affected everyone and every business in some way, shape, or form. Essentially all indoor locations are facing capacity maximums and social distancing regulations that have made their operations more complicated. Luckily, the LED technology people counters from Dynamo LED are applicable across a number of industries. Some of the most appropriate markets include:
Retail
Tourism – Theme parks, aquariums, zoos, etc.
Public Service – government offices, etc.
Real Estate – open houses, etc.
Libraries and Museums
Supermarkets and Grocery Stores
Events and Exhibitions – live events, rallies, etc.
Outdoors and City Centers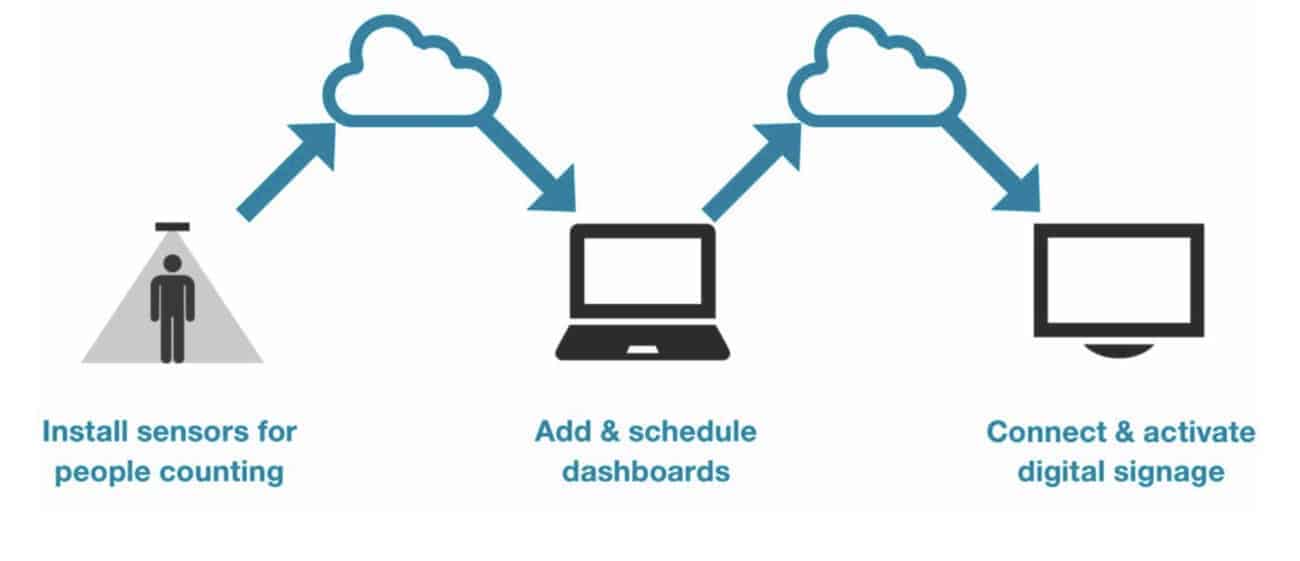 The Dynamo CMS platform is the perfect solution for both security and health compliance standards. First, a door sensor will be installed above your exit and entrance. After you activate your account, real-time data from the sensor will be available to you via the cloud. All data will be encrypted and only accessible to permitted users.
The Capacity Management app within your account will allow you to set limits for capacity, add camera locations, and customize your dashboard as you see fit. Then you can easily apply these real-time people counting dashboards to your digital signage screens.
You can also use the CMS to display a live count dashboard of people on your digital LED screen to keep customers and staff informed as the day goes on. All you have to do is connect your SoC display or media player to the internet and download/validate the Dynamo App with your PIN.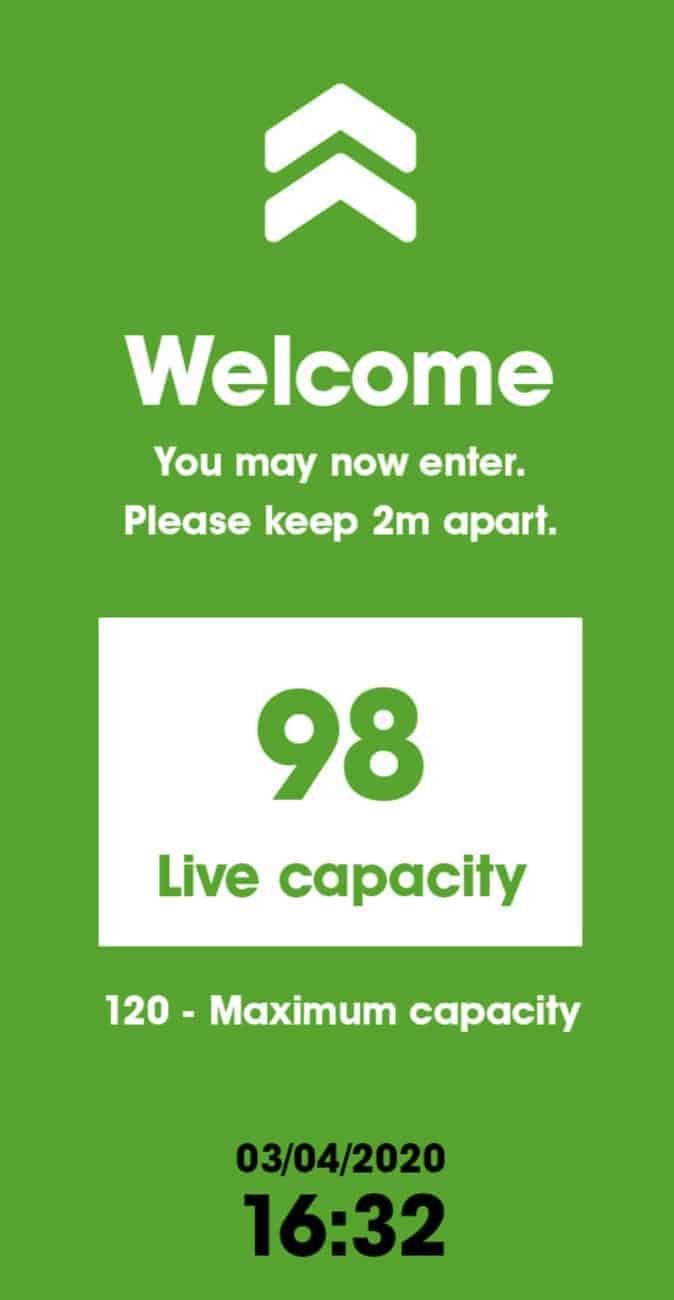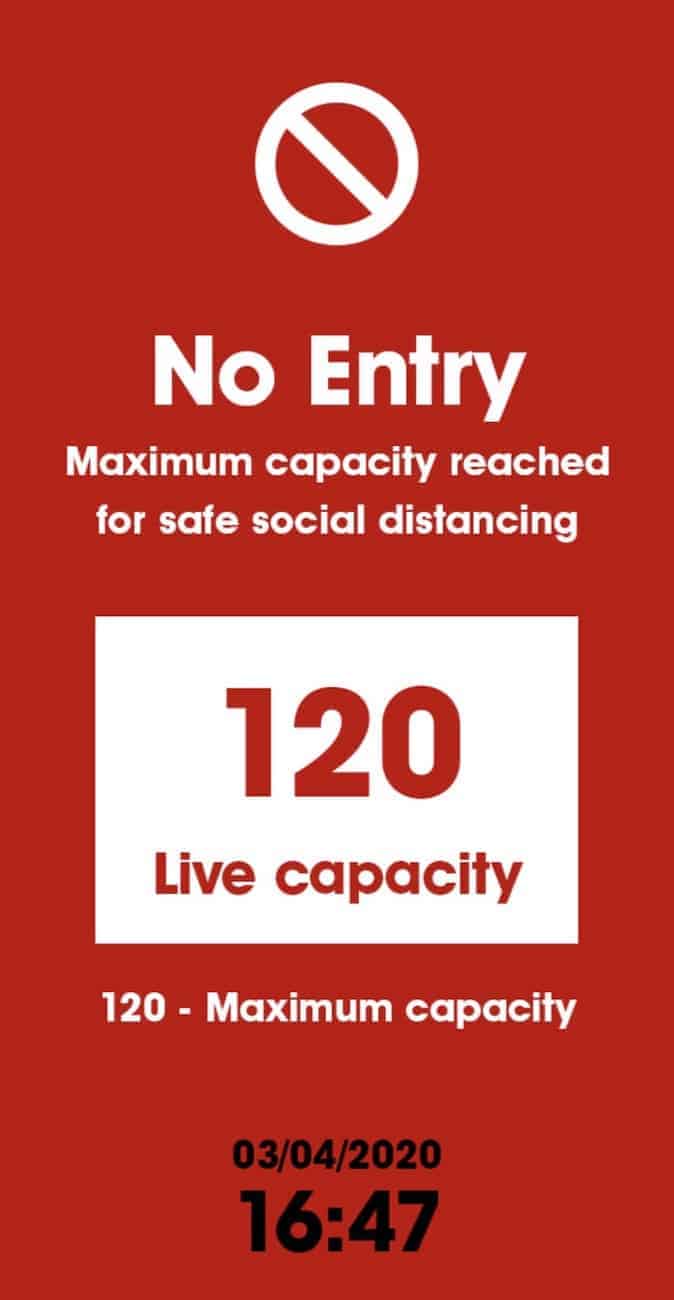 All Dynamo LED People Counting System customers can customize their dashboards using colours and dynamic inputs or even personalized messages. You can also use your gathered data to create trend reports for analytical and compliance usage.
GIVE CUSTOMERS THE GIFT OF CONFIDENCE
Now more than ever, customers are turning to their favourite businesses for the protection they need to go about living their lives safely during this ever-evolving climate. Give them the confidence they need with Dynamo LED people counters.