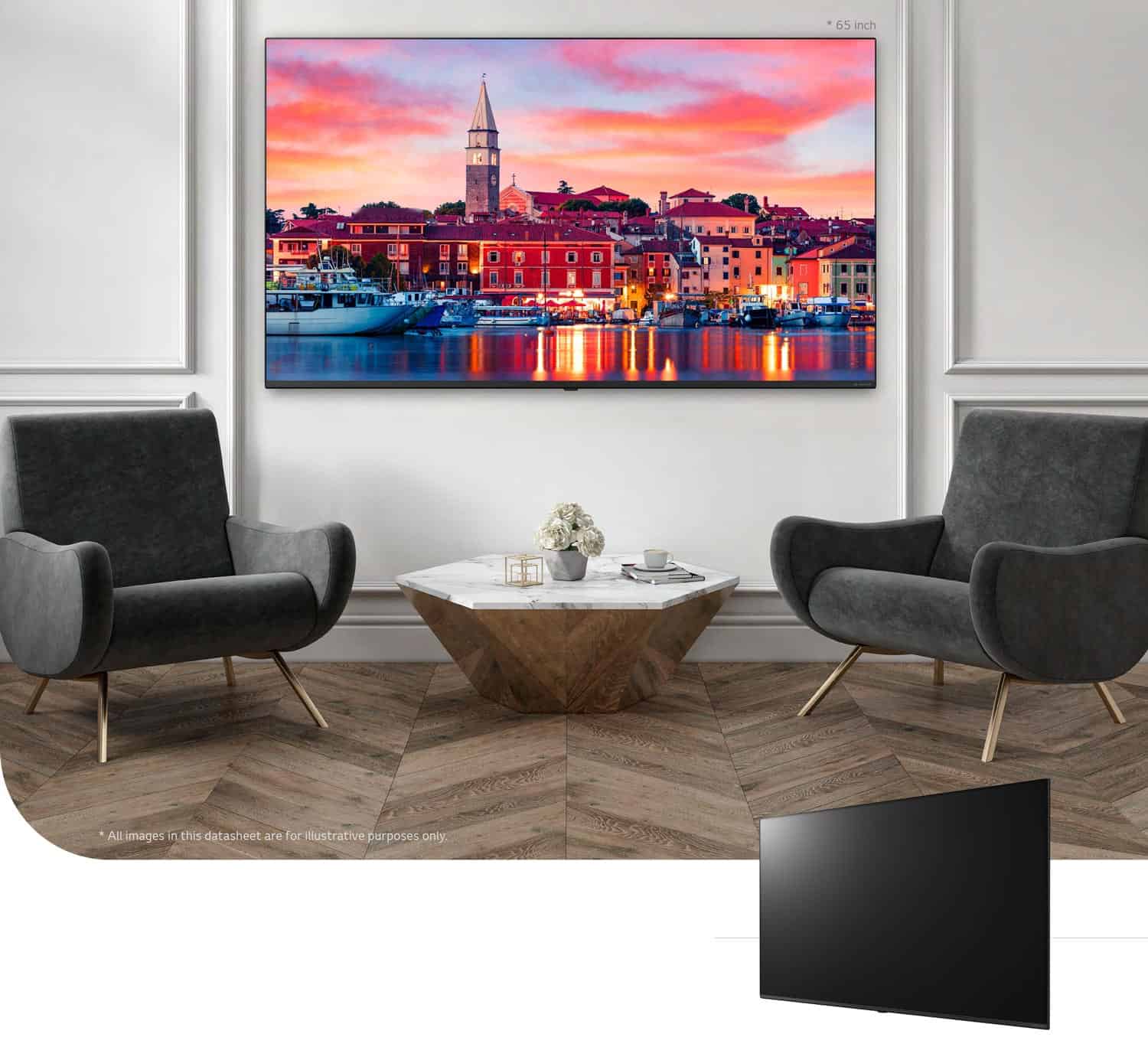 Commercial TV UR767H (EU)
4K UHD Hospitality TV with Pro:Centric Direct
UR767H (EU)

No Stand For Accessory : 1 Pole (65" : Fixed, 55"/50" : Swivel), Floor Stand (65"/55")

Pro:Centric (Smart, Cloud, Direct, V, Server), Quick Menu

Pro:Centric Cloud
Pro:Centric Cloud improves the usability of enterprise's CMS solution and cloudification of system, reinforcing the service of 3rd party solution. It also offers various design templates, improving data collection and analytics platform with an eye-catching dashboard.

Nano Bezel Adds Sophisticated Ambiance
The hotel content management solution Pro:Centric Direct offers easy and simple editing tools, making it easy to perform service and IP network-based remote management with a single click. The Pro:Centric Direct solution enables users to edit their interface easily by providing customized interface and efficiently manages all TVs in the room. The latest PCD version provides IoT-based inroom control These IoT will be your starting point to prepare for the hotel rooms of next generation through artificial intelligence.

More Innovative LG webOS 6.0
Explore the latest LG Smart TV features, and discover TVs that deliver innovative technology, remarkable clarity, and true-to-life colors. Newly added Gallery Mode enable you to utilize the TV as a customized clock and an artwork which perfectly harmonizes with your space and life.

SoftAP
Software-enabled Access Point (SoftAP) is a "virtual" Wi-Fi feature that uses TV as a wireless hotspot, enabling guests to connect their own devices to the SoftAP. It supports Bridge Mode, allowing administrators to manage in-room SoftAP information such as signal level, SoftAP passwords, etc.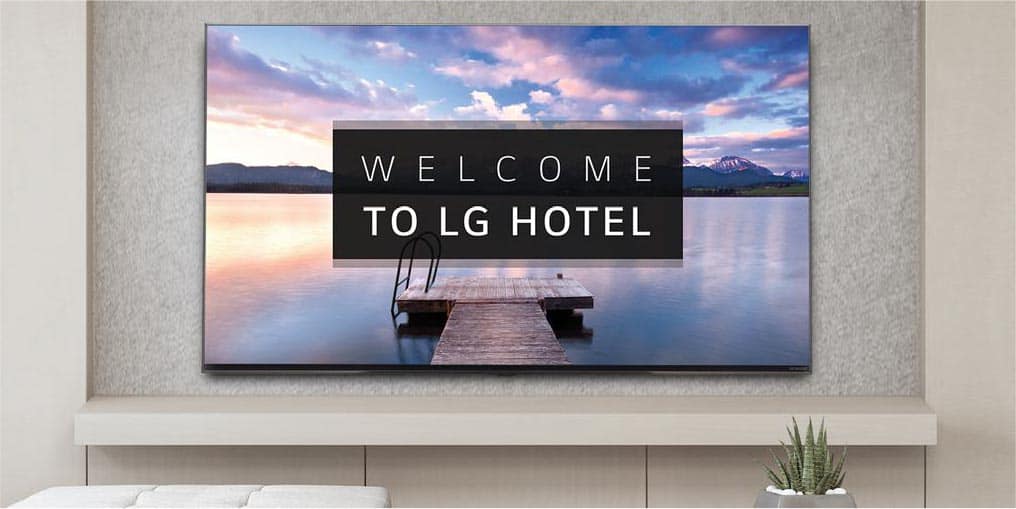 Welcome Video / Screen
With the capability to display several images, Commercial TVs allow for a greater variation of greeting messages in hotel rooms which make customers feel more welcome and cared for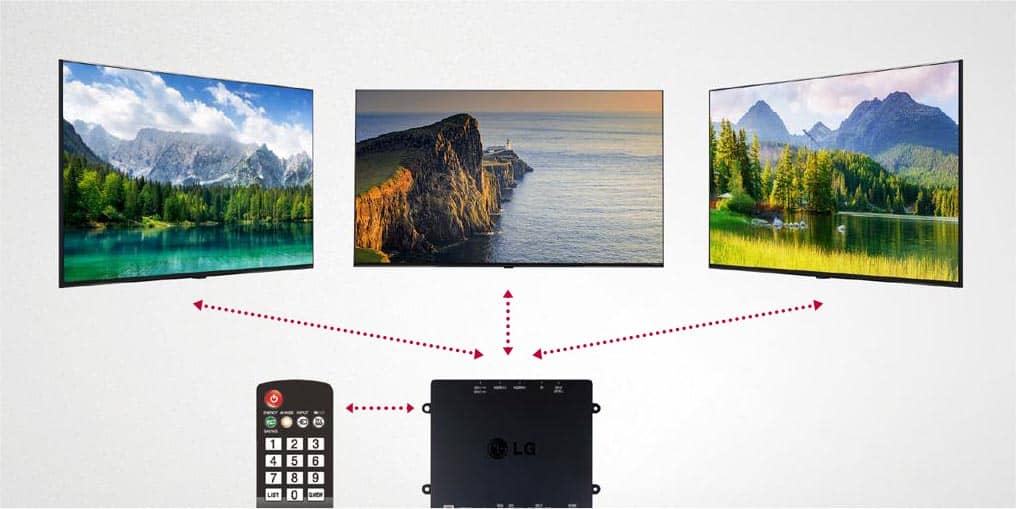 IR Out
Using the interactive set-top box, LG Commercial TVs can be controlled with a single remote control.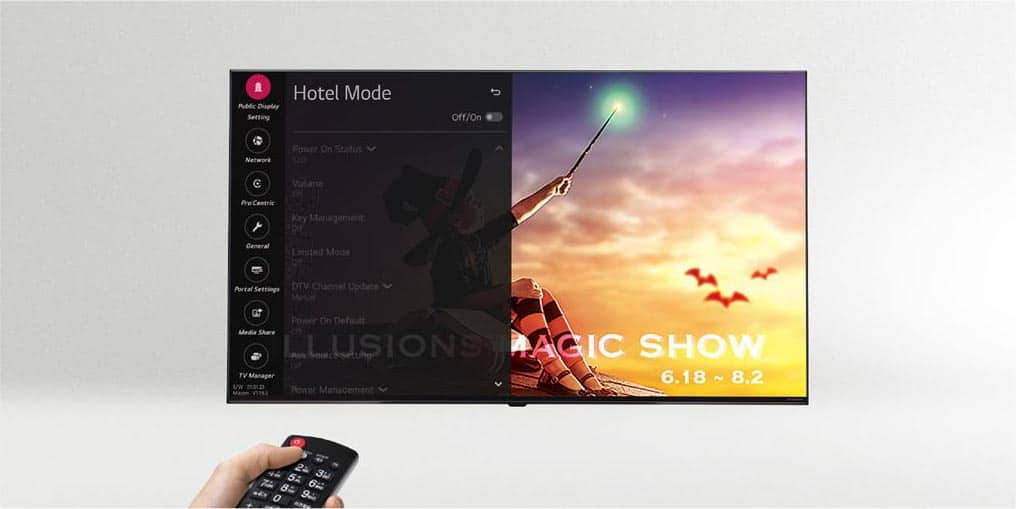 Hotel Mode (Public Display Mode)
From channel selection to volume level, you can control the TV settings in business areas. It also enables you to restore default settings, as required, on the TVs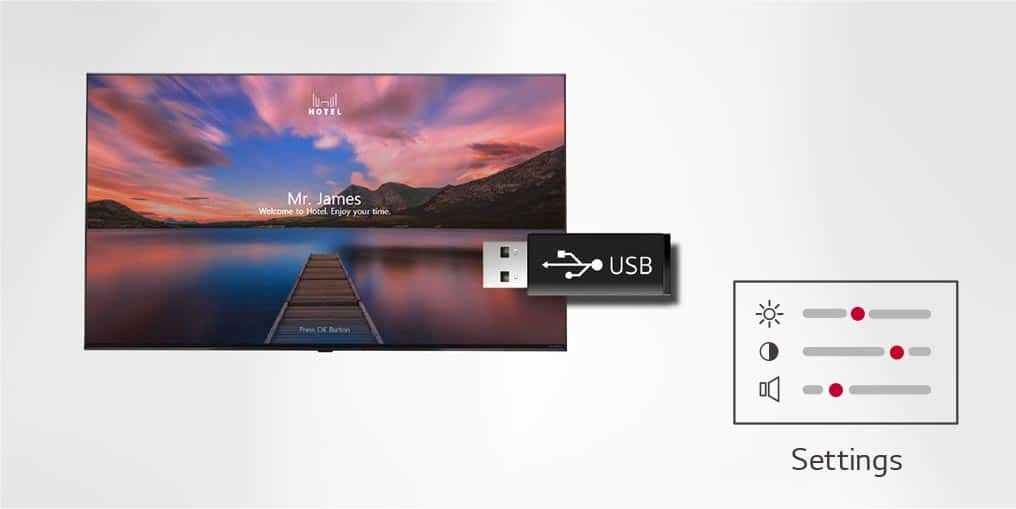 USB Cloning
USB data cloning makes managing multiple displays more efficient for optimal operation. Instead of setting up each display one by one, data can be copied to a USB for one display and can be sent to the other displays through a USB plug-in.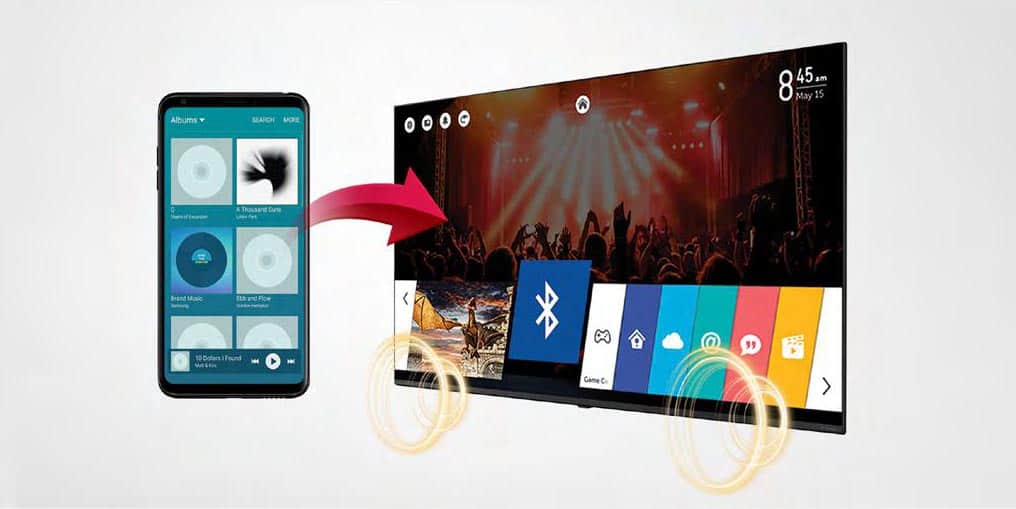 Bluetooth Sound Sync
Bluetooth Sound Sync enables users to listen to music on a mobile device through TV speakers via Bluetooth connection.
* Support devices for Bluetooth Sound Sync: Android (above v4.4 KitKat) / iOS based mobile device

Easily Accessible to Netflix Application with Pro:Centric Direct
Pro:Centric Direct, the easy and simple management solution for hotel content creates a memorable experience for your clients. Especially, the Netflix App can be activated by anyone with Pro:Centric Direct. Netflix membership required.
50″ 50UR762H Commercial TV
4K UHD Hospitality TV with Pro:Centric Direct

Pro:Centric Cloud

Pro:Centric Cloud improves the usability of enterprise's CMS solution and cloudification of system, reinforcing the service of 3rd party solution. It also offers various design templates, improving data collection and analytics platform with an eye-catching dashboard.

Easily Accessible to Netflix Application with Pro:Centric Direct

Pro:Centric Direct, the easy and simple management solution for hotel content creates a memorable experience for your clients. Especially, the Netflix App can be activated by anyone with Pro:Centric Direct. Netflix membership required.

* webOS 5.0 only
* PMS required
* Available with Pro:Centric Cloud

Pro:Centric Direct

The hotel content management solution Pro:Centric Direct offers easy and simple editing tools, making it easy to perform service and IP network-based remote management with a single click. The Pro:Centric Direct solution enables users to edit their interface easily by providing customized interface and efficiently manages all TVs in the room. The latest PCD version provides IoT-based inroom control as well as voice control function through LG Natural Language Processing (NLP). These IoT and voice-related functions will be your starting point to prepare for the hotel rooms of next generation through artificial intelligence.

* Some features may not be supported based on PCD versions.

Slim Bezel That Makes TV a Sophisticated Objet

UR762H series with a slim bezel is designed to blend into any interior and delivers an immersive viewing experience without any interruption.

SoftAP

Software-enabled Access Point (SoftAP) is a "virtual" Wi-Fi feature that uses TV as a wireless hotspot, enabling guests to connect their own devices to the SoftAP. It supports Bridge Mode, allowing administrators to manage in-room SoftAP information such as signal level, SoftAP passwords, etc.

* SoftAP should be set in the installation menu after the TV is turned on.
* Smart Mirroring may not be operated at the same time

More Innovative LG webOS 5.0

Explore the latest LG Smart TV features, and discover TVs that deliver innovative technology, remarkable clarity, and true-tolife colors. Newly added Mood Display & Gallery Mode enable you to utilize the TV as a customized clock and an artwork which perfectly harmonizes with your space and life

Welcome Video / Screen

With the capability to display several images, Commercial Lite TVs allow for a greater variation of greeting messages in hotel rooms which make customers feel more welcome and cared for

Hotel Mode (Public Display Mode)

From channel selection to volume level, you can control the TV settings in business areas. Public Display Mode also enables you to restore default settings, as required, on the TVs.

USB Cloning

USB data cloning makes managing multiple displays more efficient for optimal operation. Instead of setting up each display one by one, data can be copied to a USB for one display and can be sent to the other displays through a USB plug-in.

Bluetooth Sound Sync

Bluetooth Sound Sync enables users to listen to music on a mobile device through TV speakers via Bluetooth connection.

* Support devices for Bluetooth Sound Sync: Android (above v4.4 KitKat) / iOS based mobile device
EAN # : 8806091549341
Features
Screen Size
50 Inch
Colour
Black
Resolution
3,840 x 2,160
4K UHD
Yes
SMART TV
Yes
Hotel TV
Yes
HDMI
3
USB 2.0 ports quantity
2
Built-in speakers
Yes
Speakers
2 x 10W
Compatible with VESA-wall mounting system
200 x 200 mm
Dimensions W/O Stand (W x H x D)
1121 x 651 x 57.1 mm
Weight W/O Stand
15 Kg
Warranty
3 year on site swap out as standard – see further options on the warranties tab below